Vivian Hendriksz

|
London - Online luxury retailers, such as Net-a-Porter, Farfetch, and Matchesfashion have managed to carve out a name for themselves in the industry thanks to their unique fashion offering of high-end brands. However, although these premium fashion destinations succeeded in offering a wide range of designer and luxury brands and designers when it came to their sizing offering, they remained rather limited - like much of the higher-end part of the fashion market. However as waistlines around the world continue to grow, as does the demand for plus-size luxury fashion.
Enter 11 Honoré, the high-end fashion retailer exclusively catering to those US size 10 to 20 (UK size 14 to 24). 11 Honoré, which officially launched earlier this week, offers a number of premium designer brands, including ready-to-wear collections from Prabal Gurung, Marchesa, Zac Posen and Michael Kors. The plus-size premium fashion e-tailer, which sits alongside navabi, is the brainchild of co-founders Kathryn Retzer and Patrick Herning. Herning, a former executive at HL Group and founder of influencer and marketing engagement firm PMH Partners, combined his experience with brand building with Retzer own experience in fashion editorial, previously working for Allure, Vogue, and Town & Country, to create 11 Honoré.
11 Honoré offers luxury plus-size fashion
The two friends decided to team up last year to develop a site which offered a curated selection of plus-size fashion directly from the runway after spotting the gap in the market. "For the first time the plus-sized woman is getting the exact same option," says 11 Honoré co-founder Patrick Herning to Business of Fashion. The luxury e-commerce launch comes as the market for plus-size designer fashion continues to remain underdeveloped, despite the fact that the average female size in the United States is size 16 according to the NPD Group. Although some higher-end brands fear that by offering an extended sizing range could put off their current, smaller size core clientele, others note it does not tie in with their overall brand image.
However, data from NPD also shows that sales of women's plus-size fashion grew twice as fast as overall fashion sales in the US in 2016, reaching 21.4 billion dollars, underlining the untapped potential that lies within the plus-size market. Which is where 11 Honoré comes in. In addition, unlike other plus-size specialists, which tend to charge more for their garments as the production of a larger garment can be more complex and use more materials, 11 Honoré offers high-end and designers pieces at the same price of their 'normal' sized counterparts. "We know [the plus-size luxury consumer] is spending money in other categories," added Herning. He noted that a number of the designer brands offered at 11 Honoré have been serving plus-size consumers for a while now, through their special order service.
"We are showing her, for the first time, that you can be aspirational and this is where you can find it."
Images: 11 Honoré website
FashionUnited

|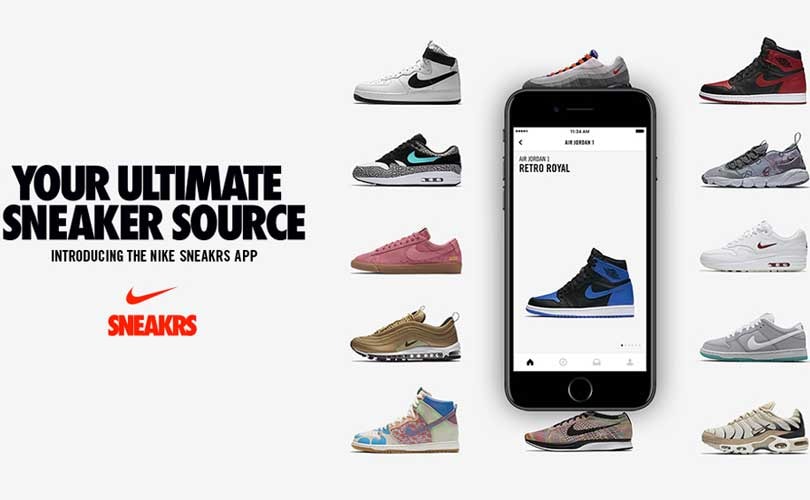 Nike have launched yet another mobile app, this time focussing solely on their trainers.
Sneakrs, an extension to Nike's desktop site, offers users insight into Nike's latest sneaker drops as well as the production process behind some of the most sought after designs.
Users will be the first to know about flash drops of sneakers such as the Air Jordan 1 Royal, Air Jordan XI Space Jam, Flyknit and Air Max 97 - available for lucky users to buy in the app from August 18.
Sneakrs is available to iOS and Android users in 19 countries and 14 languages including UK, Denmark, Italy, the Netherlands, Germany, France.
Photo courtesy of Nike
FashionUnited

|
After two bankruptcies and shutter of all stores, American Apparel's last minute acquisition by Gildan Activewear, promised the US retailer would return to e-commerce.
Now relaunched, the American Apparel e-commerce site is the exclusive way for fans of the brand to shop. Playing on the 'Made in America' ethos, the website features dedicated 'Made in USA' and 'The Archives' sections which offer signature pieces such as The Easy Jean and Disco Pant, produced in America.
However, since Gildan only required the brand name; the design, production and distribution operations have been moved abroad, leaving a 'Basics' section which features cheaper, almost identical garments which are produced 'globally'. With a combination of material sources, Gildan is able to judge the importance of the 'Made in USA' ethos - adding the tagline 'Globally Sourced, Ethically Made, Sweatshop Free'.
As the importance of brand transparency continues to grow, Gildan has also added a section named 'Sweatshop Free Stories', which gives an insight into the new American Apparel factory in Honduras.
Photo courtesy of American Apparel website
Simone Preuss

|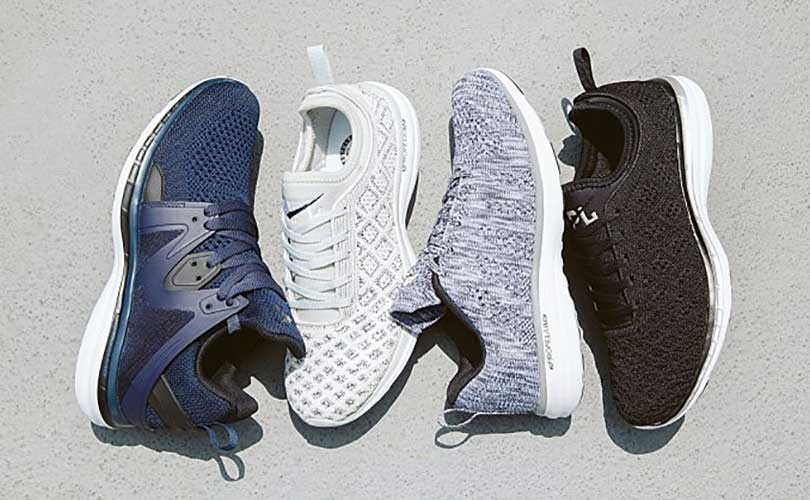 Canadian sportswear brand Lululemon is partnering with US sneaker brand Athletic Propulsion Labs (APL), which means fans of both will be able buy their favourite articles under one roof. For Lululemon, this is the first time the sportswear brand will be offering shoes as well, making sure their customers can leave a store dressed from head to toe for their next workout.
"Our brands share a passion for providing products that are technical, innovative, functional, and fashion forward," commented Celeste Burgoyne, Lululemon America's executive vice president of retail. "We continue to invest in delivering the most innovative, quality, functional items for our guests, so now we're stepping up by providing an APL option to complete a full technical ensemble."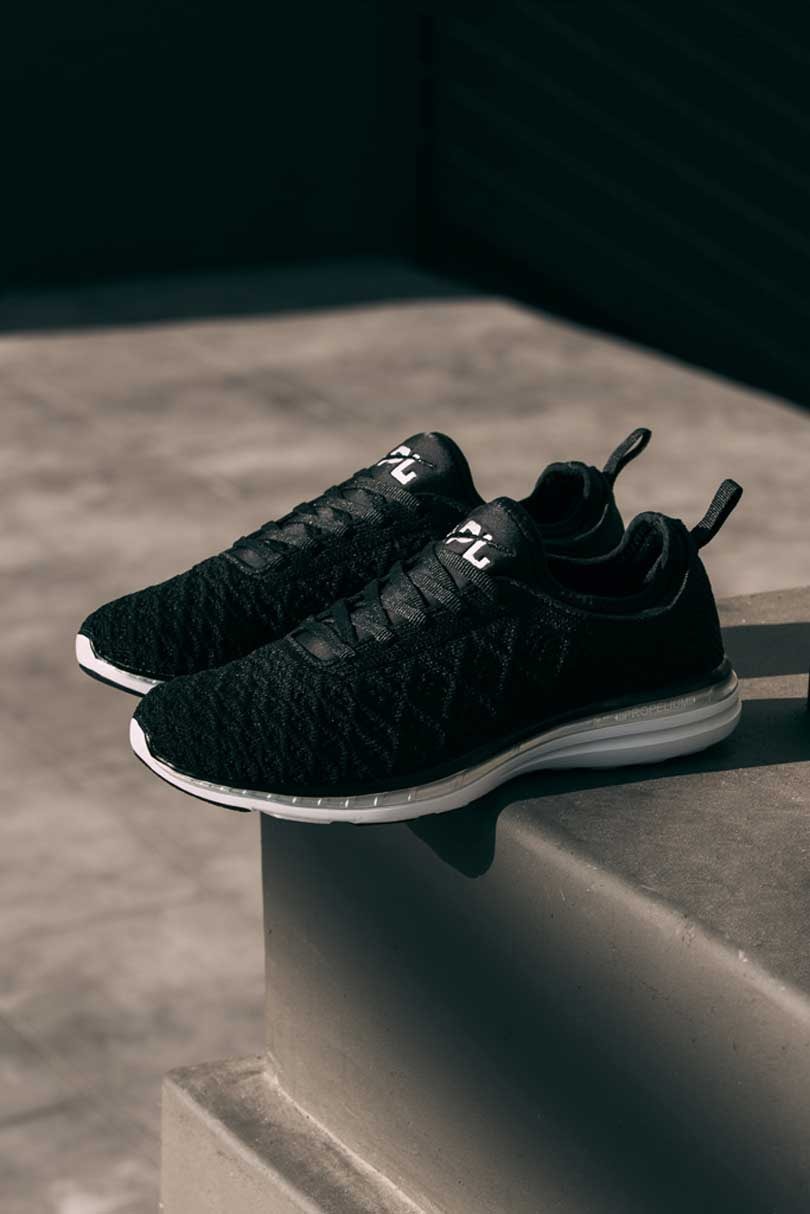 For now, APLs footwear will be availabe in 23 select Lululemon stores, among them stores in Denver, Scottsdale, Arizone, Seattle, Atlanta and New York but not (yet) online. The APL selection will vary by location but customers can expect the brand's TechLoom Phantom and TechLoom Pro in various colors, including its signature classic black, white and heather grey as well as shades of rose gold and beige. Pricing will be in the regular APL range, between 140 and 165 US dollars.
Lululemon and APL already teamed up last November for a product-testing truck tour of the US and Canada where visitors could try out Lululemon articles and APLs. "We look forward to inspiring more sweaty pursuits by offering a one-stop shop with an in-store shoe option to complete our guests' outfits," added Burgoyne. "APL shares our brand values of providing a quality technical product that elevates and celebrates our guests to live a life they love."
APL was founded in 2009 by Adam and Ryan Goldston who focused on developing footwear with Propelium technology, providing performance, comfort, cushioning and support. Features of the popular sneakers include four-way stretch, 3D grid patterns, outsoles designed in the shape of a feather, natural motion flex grooves that react to one's movements and solid rubber placed in high-wear areas for increased durability.
Lululemon, known for its focus on yoga and running gear, should be staying ahead of the competition with its latest move and seems to be banking on collaborations with like-minded brands. In June, the brand had announced its partnership with cycle gear specialist 7mesh.
Photo: Lululemon, APL
Herve Dewintre

|
PARIS Ian Rogers, like all Silicon Valley insiders, looks like an eternal teenager. Even when he is wearing a bespoke suit, this Indiana-born native continues to resemble a computer whiz kid, a hip-hop and punk rock aficionado, who travelled long distances to Ann Arbor so he could freely use his skateboard far away from the hostile looks of the people of Gosers, the small industrial town of 20,000 inhabitants where he was born. I was surprised to learn that Ian Rogers is over 40 years old. His tattoos show the smiling face of Sly Stone, the NeXT logo (the computer company founded by Steve Jobs in 1985) and the names of his two daughters. He stands out among the group of top executives of LVHM, and his CV does as well. In 1993, long before iTunes, he founded one of the first online music sites, totally dedicated to the work of the Beastie Boys. At the time, there were very few people who had heard of the "world wide web".
In the decades that followed Ian Rogers became the oracle of a hesitant music industry with a new model based on "pay-what-you-like". According to him it's common sense to facilitate access to music ("the fans are ready to pay"), while the big players used evil software and stillbirths to invent sophisticated complications to curb the climb of digital and the decline in physical sales of the Compact Disk. (Do you remember cd's?). Was he wrong or was he right? There is no denying that the music industry has suffered from this digital transition, but Ian Rogers is convinced that digital, far from killing off music, will ultimately be a creator of value for the industry. "When I was CEO of Topsin (a company that helps artists interact directly with their listeners) the Pixies, for example, used the company's software to collect fans' email addresses, identify them by postcode and organize an entire tour by playing at cities previously overlooked by the promoters. It was a gigantic innovation for the artists," he says.
A positive attitude, a vast experience, the ability to handle contradictions and to understand the friction that comes with revolution: itś understandable that companies like Yahoo, then Beats Music (founded by Dr Dre) then Apple and now LVMH wanted to get hold of this talent. Since October 2015, Ian Rogers is digital chief officer of the powerful French luxury group LVMH. Bernard Arnault, advised by his son Alexandre, took on recruiting Rogers himself. Rogers is now responsible for the digital transition of LVMH's70 independent brands, each with a strong identity, 6 universes - from fashion to leather goods, to perfumes, jewelry, selective distribution, wines and spirits.
"At the time of infinite choice, it is the quality of the products that makes all the difference"
One of the first visible results was the launch last June of the platform 24Sevres.com which brings together most of the LVMH group's leading brands as well as iconic department store Le Bon Marché. The platform - led by Eric Goguey - distinguishes itself by editorial quality, merchandising, its exclusive collaborations, and services where video chat and personal shopper intermingle. It's a flash of brilliance that is only the tip of the iceberg. Ian Rogers is already looking further. He is at the forefront of the transformations that await the profession. During the second edition of the Viva Technology fair held last June at the Paris Nord Villepinte Exhibition Centre, Emmanuel Macron listened with obvious pleasure to the explanations of the chief digital officer concerning the various startups that participated in the LVMH Innovation Award. The winner was a deep learning company capable of producing software linking social networks and e-merchants.
This privileged contact with the new guard does not seem to have stunned Ian Rogers too much, nor crumbled his common sense. To define his vision of the future, he also turns to history and the upheavals that have marked the great saga of humanity. "Progress always has two sides. When you are given a brick, you can break windows or build houses. The Internet has brought about a fundamental change in the way we communicate, learn, are entertained and consume. It is a real cultural revolution and this inevitably causes tension". From disorder comes progress? "Today we have unlimited access to knowledge. It has changed our relationship to the world, but it also presents challenges to our political systems. Brexit or the election of Donald Trump, for example, are probably also correlated with the Internet. But on the other hand, we have an ocean of unprecedented and stimulating possibilities open to us, like augmented reality for example; we are only at the very beginning".
Why did the net take so long to seduce iconic fashion firms? "There was an Internet bubble in the late 1990s, but this was not because the promise of the Internet was false. It lacked two essential bricks for innovation to meet its audience: the smartphone and mobile broadband networks. If we could make a comparison, I would say that we are in a situation of transition, equivalent to that faced by the Lumière brothers: in their time, we knew how to record a sequence of images on tapes of cellulose nitrate, but we didn't know how to project them onto the big screen. Today we have online commerce, but online luxury commerce does not exist yet, it remains to be invented." Time to abandon the marketing of past times? "We have moved from a world where a small group of people held all the referral power to a much more open world that gives everybody access. I find this very positive because, in an era of infinite choice, it is the quality of the products that makes all the difference". Loud and clear.
Written by Hervé Dewintre for FashionUnited.fr
Photo's: LVMH, Viva Technology dr
Danielle Wightman-Stone

|
Luxury conglomerate Kering, parent company to brands including Gucci and Yves Saint Laurent, is partnering with Chinese e-commerce giant Alibaba to combat the sale of fake goods on the platform.
As part of the deal, Kering has agreed to withdraw its lawsuit against Alibaba and affiliate Alipay, which was filed in the US district court in New York in 2015, and instead agreed to work with the Chinese e-commerce platform to safeguard intellectual property rights and fight counterfeiting.
"The new partnership represents a milestone in both parties' investment and efforts to protect brands' intellectual property rights," said the two companies in a joint statement. "The companies have established a joint task force with the purpose of collaborating fully, exchanging useful information, and working closely with law enforcement bodies to take appropriate action against infringers of Kering's brands identified with Alibaba's advanced technology capabilities.
Alibaba has long faced accusations that its platform doesn't do enough to combat the sale of fake goods and it has been working hard to change those perceptions, including forming an anti-counterfeiting alliance with Louis Vuitton earlier this year. The partnership also with brands including Samsung and Swarovski was to use 'big data' and the latest technologies in anti-counterfeiting in its global fight against copies and fakes.
Kristopher Fraser

|
The brick-and-mortar market is tough, but Uniqlo is still finding ways to grow their business. The fast-fashion retailer may have just found the answer to their problems through vending machines.
Uniqlo will be rolling out 10 vending machines over the next two months at airports and malls in several major U.S. cities including New York and Houston.
The first Uniqlo To Go machine went live today in Oakland, California at the Oakland International Airport.
Uniqlo to adopt vending machine strategy for business growth
The Wall Street Journal has reported that the six-feet-high vending machines will carry an assortment of mostly heat-retaining shirts and lightweight down jackets, and items will be dispensed in boxes and cans. Customers can return them at a store or by mail.
Uniqlo originally had a very ambitious retail expansion plan several years ago that involved an having 200 brick-and-mortar stores by 2021, but as they had trouble gaining popularity in other markets outside of the U.S. and Japan, as well as competing with other fast-fashion retailers like H&M and Zara, they dialed back on big expansion plans.
Their new strategy, aside from these vending machines, is to focus on pop-up stores and flagship presence.
Currently, Uniqlo ranks as the world's third largest retailer behind both Zara and H&M.
Photo: via Uniqlo.com
Kristopher Fraser

|
Saks Fifth Avenue and Disney have announced a collaboration to celebrate the holidays at Saks stores this winter. The two brands will come together this holiday season to create window displays experiences Saks' 41 stores in the U.S. and Canada.
This November, Saks' annual holiday window unveiling in New York will celebrate Snow White and the Seven Dwarfs. The collaboration includes special Disney-inspired fashion, accessories and giftable items created by designers and available in all Saks stores in the U.S., Canada and on Saks.com.
"The power of brands like Saks and Disney coming together to create special experiences and custom designer pieces that our clients won't find anywhere else, is the epitome of today's new luxury—and an opportunity for Saks to put its best foot forward during the holiday season," said Marc Metrick, president of Saks Fifth Avenue. "We're excited to unveil more details of this fantastic collaboration in the coming months."
"It's been 80 years since Walt Disney astonished the world with the first-ever full-length animated feature, and Snow White and the Seven Dwarfs has remained an audience favorite ever since," said Jimmy Pitaro, chairman of Disney Consumer Products and Interactive Media. "Bringing Snow White and her story to Saks' holiday campaign is a terrific opportunity to honor the film's legacy, and give fans a new way to make this classic part of their celebrations."
photo: via PR Newswire
FashionUnited

|
Raf Simons has invited artist Sterling Ruby to reimagine the Calvin Klein, Madison Avenue flagship store, originally designed by architectural designer John Pawson. Launched in the interim to house his inaugural Autumn 17 Calvin Klein 205W39NYC collection, the store will undergo a complete renovation at a later date.
205W39NYC A/W17 Collection launched with bright yellow store
Opened on Saturday, July 29 - the impermanent store installation features floor to ceiling yellow walls and scaffolding the colour of 'cautionary tape and traffic signs' according to the brand. Designed to connote 'an environment under construction', Simons commented: "I wanted the store to generate a very immediate physical experience that could as well be intimately connected to the collections."
Move your mouse over the photos to discover more about the store concept
Simons joined Calvin Klein as Chief Creative Officer in August 2016 and has worked with Ruby on two projects since, working together to redesign the ground floor and 12th floor showroom at the Calvin Klein, 205 W 39th Street headquarters - where the name for the 205W39NYC collection comes from.
It seems this is not the end of the collaboration either, as Simons explains, the store design "is also a continuation of the language I am creating with Sterling for Calvin Klein's visible and physical identity. The use of very direct and familiar references common to the American visual experience creates a simple and emotional connection with the brand."
Calvin Klein was founded in 1968 and has built a reputation of clean and innovative designs. Global sales currently exceed 8 billion US Dollars with designs distributed in 110 countries, the company employs more than 10,000 associates globally.
Photos courtesy of Calvin Klein 205W39NYC, © 2017 Elizabeth Felicella / This Photographics
AFP

|
Amazon launched its express delivery service in Singapore on Thursday, the US online retail giant's first foray into Southeast Asia and a move that puts it in direct competition with China's Alibaba.
Prime Now allows online shoppers in the affluent city-state of five million people to order a wide range of goods from baby products to food, electronic items and beer. It marks Amazon's entry into a region of more than 600 million people, where many countries have a growing middle class, and which is seen as the next e-commerce battleground.
"Amazon's entry augurs well for shoppers in the region who will benefit from more choice, price competition and better delivery services," said Prem Shamdasani, an associate professor for marketing at the National University of Singapore Business School. Alibaba already has a headstart in the region with an 83-percent stake in Southeast Asia-focused online retailer Lazada.
The Chinese firm, founded by China's richest man Jack Ma, raised its stake in Lazada last month with a further 1 billion dollar investment. The Prime Now application was made available for download in Singapore on Google's Play store and Apple's iTunes. By just entering their postal zip code after opening the app on their devices, online shoppers can start placing their orders.
The service promises delivery of items within two hours. Business consultancy Frost & Sullivan projects online retail sales in Southeast Asia to more than quadruple to 71 billion dollars by 2021 from 16 billion dollars in 2016. The e-commerce sector made up 4.1 percent of the total retail market for the region last year but this share is set to rise to 11.5 percent by 2021, the consultancy said. But Shamdasani warned that it could be difficult market. Southeast Asia includes relatively wealthy countries such as Singapore, but also developing nations with poor infrastructure where it is harder to do business.
"While e-commerce is set to grow the market in Southeast Asia is relatively small and fragmented with narrow margins," he said. He said Amazon will "face increasing competition from many established store retailers who are embracing e-commerce and providing their customers with seamless omni-channel shopping experiences".
Mei Lee Quah, an analyst for telecoms and payments strategy at business consultancy Frost & Sullivan, said that while Amazon and Alibaba are rivals, their product offers are also complementary. "Their offerings will be slightly different because they (Amazon) bring products in the form of US inventory," Quah told AFP. "Lazada plays in a slightly different field. They are also of quality but the range is different, it caters more for the overall Asian market," she added. (AFP)