Sara Ehlers

|
Marie France Van Damme just announced a new boutique opening in Marrakech. Launching in Mamounia Palace, the Hong Kong-based designer just planted new retail roots in the area.
The new boutique stands as the latest retail addition for Marie France Van Damme. As the brand has expanded in several categories including swimwear, bridal, ready-to-wear, accessories, and more; it seems the label is moving forward as well with its retail footprint. This will be the label's second location in Hong Kong. Currently, Marie France Van Damme in sold in over 100 retail locations including stores such as Le Bon Marché, Harrods, Selfridges, Bergdorf Goodman, Saks, Neiman Marcus, and such exclusive resorts as Aman and One&Only. Marie France Van Damme also has stores in Los Angeles, London, Singapore, Bangkok, and Phuket.
The resort wear designer recently just launched her first U.S. store as well. In September of this year, the designer stated her flagship would open in Beverly Hills. As a local favorite among celebrities, Marie France Van Damme's fate in the U.S. seems to be promising. With more and more exposure globally and nationally, the Hong Kong native's emergence in retail displays success for the company's business.
Source: Marie France Van Damme
Kristopher Fraser

|
South-East Asia footwear retailer Star360 has announced the unveiling of its Cole Haan flagship store located at Central World, the largest lifestyle shopping destination in Bangkok.
International growth has been key for Cole Haan over the past several years. Since 2014, they have successfully established themselves in over 40 new markets throughout Asia Pacific, Latin America, Europe, and the Middle East.
The design and interior of this store features a series of rooms, which is inspired by a residential layout that showcases the brand's new innovative lifestyle products. This new layout allows for a wider range of footwear and accessories to be displayed.
Cole Haan opens new store in Bangkok
Coinciding with the unveiling of this new store is the Cole Haan Fall 2017 Extraordinary Women, Extraordinary Stories campaign featuring fashion icons Christy Turlington Burns and Karlie Kloss, captured by photographer Cass Bird.
Burns and Kloss both have major initiatives for giving back: Kode with Klossy, empowering young women and girls to learn to code as well as become leaders in tech, and Every Mother Counts, providing support to mothers around the world with access to essential maternity care.
"We are delighted that Star360 has partnered with us to launch this Cole Haan store in Thailand which will further give customers more access to Cole Haan's innovative and stylish collections for both men and women. This echoes our goal of further expanding and allowing astute customers to find extraordinary footwear and accessories throughout Southeast Asia and the world," said, Greg Dinges, executive vice president and general manager, International at Cole Haan.
photo:via PR Newswire
Vivian Hendriksz

|
INTERACTIVE
Amsterdam - US sportswear brand Under Armour opened its debut flagship store in Europe in Amsterdam Thursday evening. The store, which is the first and largest Brand House store from Under Armour, spans more than 1,000 square meters.
Located on the Kalverstraat, a main shopping street in the city, the new Brand House offers Under Armour's menswear, womenswear, childrenswear as well as footwear. In addition, the flagship store also offers the brand's accessories, which are divided by category: training, running, golf and football. "This store is very important to us," said Paul Nugent, Senior Direct for Marketing to FashionUnited during the store opening. "We are a young brand and we are still putting Under Armour on the map in the Netherlands. We first introduced the brand to the country a year ago, established our European headquarters in the city and now we have opened a store. Now we have to take the brand to the next level."
"Today is a huge milestone for Under Armor in Europe, where our growth in the region continues to grow, " added Susie McCabe, Senior Vice President, Global Retail, Under Armour. "The premium quality of the store is fully in line with the other Brand Houses worldwide. Under Armour has, of course, added local elements that reflect the style and liveliness of Dutch and Amsterdam culture."
Amsterdam was a logical location for the brand to select when it came to opening their first flagship store. "There is something special about Amsterdam. There is a certain atmosphere in this city that radiates that 'we can achieve any goal.' That aligns exactly with the brand. The experience in the Under Armor store is very important to us. We want people to be inspired when they come in and feel that they want and can become better and a Brand House must be the place that represents the brand. Not just because of the technology behind a product, but also because of the feeling it evokes," added Nugent.
For the time being the brand does not intend to open any additional European stores. Under Armour is rather currently focusing its attention on its store in Amsterdam and will see how things pan out in the future. "The beauty of Under Armor is that we do not have a specific strategy in each market that we always follow, but we respond to opportunities. So we will see what the future brings us," concluded Nugent.
Founded by Kevin Plank in Baltimore, Maryland in 1996, the company has grown over the years and is present across the globe. The US sportswear brand currently operates a number of offices around the world, including its European head office in Amsterdam South.
Photos: Courtesy of Under Armour
Kristopher Fraser

|
Marni has reopened its Shanghai boutique on Mainland China at Shanghai's Reel Department Store. To celebrate the grand reopening of their boutique, they had their first ever Marni Christmas Carnival. In total, the brand has 15 stores throughout China.
In honor of the event, Marni launched a line of puppets called "Marni Visitors," a range of puppets commissioned from Colombian artists. A portion of the proceeds are donated to children's charity Piccolo Principe.
In addition, five limited-edition trunk bags were also designed for the Christmas Carnival.
Marni has been undergoing an era of transformation since new creative director Francesco Risso took over from founder and designer Consuelo Castiglioni last year. The designers first collection was met with mixed reviews, but he's trying to take the criticism to improve upon the collections. The 33-year-old designer, who was formerly designer of Prada womenswear, has his work cut out for him following in the footsteps of Marni's acclaimed founder, but he slowly seems to be finding his footing.
photo: via Marni.com
Vivian Hendriksz

|
London - Online fashion retailer PrettyLittleThing has been ranked as the fastest growing global consumer brand in terms of growth in 'search interest.'
According to the annual Global Consumer Brand survey, search interest for PrettyLittleThing peaked from January 2016 to November 20, 2017, listing the brand ahead of luxury fashion houses Gucci and Louis Vuitton, which came in second and third place respectively.
The British brand's search interest growth is said to have been driven by its concentration on social media as well as its collaborations with a number of high profile influencers and brands ambassadors in the US, such as Kourtney Kardashian. This social media push, combined with its above the line advertising raising brand awareness among millennials and generation z, has lead to increasing search interest in the brand.
"We work very hard as a team to ensure we deliver what our target demographic aspires to," commented co-founder and CEO of PrettyLittleThing Umar Kamani. "Our youthful management team allows us to deliver this in a competitive manner. It's a family culture at PLT and we feel this is a huge marker for our continued success."
The annual survey, carried out by the Aaron Wallis Sales Recruitment, uses Google Trends to measure 'search interest'. PrettyLittleThing's search interest score topped the growth rankings this year, increasing 134 percent between 2016 and 2017, up from 25 percent in 2016 to 58.59 percent in 2017.
Photo: PrettyLittleThing, website
Vivian Hendriksz

|
London- One of the last luxury fashion houses to shun an online store has finally ventured into e-commerce: Céline. The French fashion house, owned by luxury company LVMH, is taking on an omnichannel business model with the launch of its renewed website celine.com, marking the first time the luxury label offers all its products for sale online.
Céline is first launching e-commerce in France in order to test the waters, with plans to roll out it out to Europe and the US in 2018, and later in Japan in 2019, according to WWD. Celine.com's launch will be communicated to French consumers through the means of a new digital campaign which will be unveiled in France from mid-December onwards.
The new, minimalistic design of the website links back to the luxury fashion house's sleek brand image curated by its creative director Phoebe Philo. As the only online webshop for Céline, the platform also offers a list of related customer services, such as the option for click and collection in store, in-store returns, booking in-store appointments or scheduling in an at home collection.
"E-commerce is launching as planned with ambitious business objectives, but also as a key tool to increase visibility, recruit new clients and provide a full service to our clients who are looking for a global experience, mixing digital and physical touchpoints," said a spokesperson for the brand to WWD.
The launch of celine.com comes days after speculation concerning Céline's shift online re-emerged. The move sees Céline join the likes of Gucci and Louis Vuitton in embracing e-commerce, as data from consultancy firm Bain predicts online sales of luxury goods to grow 24 percent in 2017.
Photo: Celine, website
Danielle Wightman-Stone

|
Villoid, the styleboard app co-founded by Alexa Chung, is expanding into "hyper-curated" shopping, enabling style influencers to sell direct to their fans and the public, through their own web shops within the revamped Villoid platform.
The app, which launched in 2015, has users from over 180 countries, said the move will allow influencers, including Chung herself to open and curate their own web shops that the app states will "change the way we shop".
Launching with Chung's own web shop, the platform will announce a new shop owner every day, from well-established names to up-and-coming talent, along with some of the infuencers who have risen to prominence within the app's community, with each "celebrating their individuality and favourite brands and products" from the 4,000-plus brands stocked on Villoid, everything from high street to high end, emerging designers and vintage.
"I'm so excited to be launching this next phase of Villoid alongside some incredible women with enviable taste – some are friends, some I just stalk and others are people I'm sure you'll come to know and love," said Chuing. "I'm intrigued to see what they do with their shops and look forward to sharing this journey with you all."
Style app Villoid launches influencer web shops
Villoid chief executive and co-founder Karin Kaellman added: "In the two years since our launch, we have developed a strong international brand, a solid tech platform, a stream of magnificent brands applying to become part of our ecosystem - and most importantly a warm community of women of all ages, persuasions and locations.
"It was only natural that we strap on our working gloves and build this new angle to our platform - to give our fans what they've been calling for - an accessible, personalised and hyper-curated shopping experience with a nifty buy button. Killing three birds with one stone, we simultaneously allow style influencers to side-step the typical hassles of opening their own stores from scratch, and allow brands to be authentically and organically endorsed by some of the most stylish ladies on the planet."
Since 2016, Villoid's Emerge program, in conjunction with the British Fashion Council, has been supporting emerging designers by giving them exposure through the platform. This will continue said the app and will stock and promote brands including Serena Bute, Pop & Suki and Zanzan to help expose them to a global audience.
According to Forbes the digital influencer industry is worth 2.5 billion dollars a year, with 92 percent of consumers stating that they trust an influencer more than an advert.
Images: courtesy of Villoid
AFP

|
Powered by Chinese smartphone users splurging billions on mobile games and online shopping, China's tech giants Tencent and Alibaba are racing up the elite league of the world's most valuable companies. Hong Kong-listed Tencent, famous for its games and WeChat messaging service, became the first Asian firm to break into the $500 billion league last week -- briefly overtaking Facebook as the world's fifth biggest company in terms of market value.
Alibaba is just a few billion shy of joining its Chinese competitor at the top table of public listings -- and is already there when taking into account its private affiliates. While the top five -- Apple, Google's parent company Alphabet, Microsoft, Amazon and Facebook -- thrive across the world, the two Chinese firms have made their fortunes by cornering China's own vast market of 750 million internet users. Tencent and Alibaba do have a major advantage over American rivals because China severely restricts access to its internet, with Facebook and Google kept outside the "Great Firewall". But they have also deftly tapped into smartphone technology to woo China's large, adaptable population. "Chinese consumers' acceptance of new technology is faster than nearly anywhere," said Zhao Chen, a managing partner at the China office of tech accelerator Plug and Play.
"Even my grandpa, who is 88 years old, uses WeChat and WeChat payment." Tencent boasts nearly one billion monthly active users of WeChat, known as a "super app" for its combination of instant messaging, social media, mobile payment options, games and publishing. Half of WeChat users spend more than 90 minutes a day on the app. In smartphone games alone, the company's revenues surged by 84 percent in the third quarter, driven by the success of the "Honour of Kings" title. Alibaba, meanwhile, has dominated the e-commerce market, with Chinese consumers flocking to its shopping platforms to buy everything from laundry detergent to Boeing 747s. The firm created an annual sales promotion held during China's "Singles Day", with consumers spending a record $25 billion on November 11 -- 40 percent up from last year.
Electronic cash
Both companies have benefited from China's rapid smartphone adoption, with cheap phones flooding the market and bringing millions online for the first time. "This is basically a story of the mobile internet," said Shameen Prashantham, an associate professor at China Europe International Business School, of the tech giants' growth. "This country leapfrogged the (personal computer) stage straight onto the smartphone stage." Today, there are more than one billion smartphones running in China, according to iResearch. Both Tencent and Alibaba earn most of their revenue from mobile. They have also developed mobile payment applications -- WePay and Alipay -- that are driving hundreds of millions of Chinese to pay for everything from groceries and eating out to water bills. People simply aim their smartphone cameras at a "QR code", similar to a barcode, and click. For merchants, the transaction fees cost just a fraction of swiping a credit card in most countries, and can be completed on the go. This has also unlocked new business models, like for companies who offer sharing services, which now range from bikes to basketballs.
No ads, no business
Although Alibaba and Tencent have grown in a protected corner of the internet, they have developed unique ways to rake in cash. While Amazon takes a cut from the sale of goods like traditional retail, Alibaba takes a different approach. The company earns most of its money from charging merchants to advertise on its Tmall and Taobao platforms. "If you don't buy ads, you won't have any business," said Liu Song, owner of the Sweet Lisa Flagship Store, which sells women's dresses, rompers, and skirts on Alibaba's Tmall store. Liu frequently buys those keywords on Alibaba's platform, paying anywhere from eight to 18 cents when shoppers click into his online store. Unlike Facebook, Tencent earns most of its money from selling virtual items to its millions of users rather than selling their eyeballs to advertisers. WeChat users pay for emoticons they send to friends; players of its slash-and-burn hit game "Honour of Kings" purchase new outfits for their characters for 30 yuan ($5) up. Recently, Tencent has begun to sell some advertising and analysts believe this could be its next big growth driver. The world beyond China also offers opportunity, though neither Tencent or Alibaba can yet challenge their American rivals on the global stage. Should US tech giants fret? "Not really," investor Zhao said. "But they should be alert that Chinese companies are coming up with new business models that really work." (AFP)
Danielle Wightman-Stone

|
Luxury fashion label Marni has launched a new retail concept focusing on accessories, to boost its bags, shoes, eyewear and jewellery collections, which currently account for more than 40 percent of its annual turnover.
To highlight its accessories, Marni has unveil four new retail concepts in Rome, Paris, Madrid and Shanghai within key department stores that focus exclusively on leather goods, eyewear and jewellery, as well as its bags, which have reported an increase in sales of more than 50 percent since 2016.
In Rome, Marni accessories are located at the ground floor of the just inaugurated La Rinascente Tritone store, while in Paris the concession is within Printemps Louvre, and in Madrid, Marni has opens its accessories area in the El Corte Inglés Castellana. In addition, Marni has opened in the Grand Gateway 66 mall at the centre of the dynamic Xujiahui commercial district in Shanghai.
All the concessions reflect the Marni retail concept, which plays around with "linear geometry, sophisticated marble inlaid flooring and witty handling of delicate colours that contrast with bolder hues" said the brand in a press statement.
Images: courtesy of Marni
Danielle Wightman-Stone

|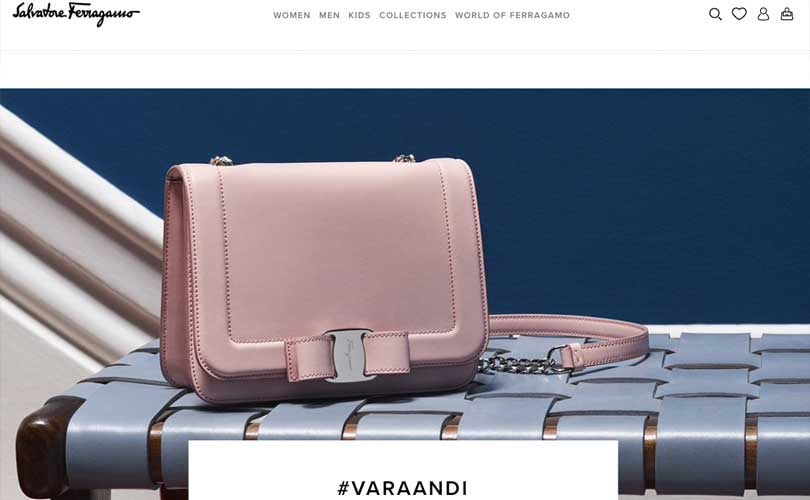 Luxury brand Salvatore Ferragamo has launched a new flexible and multi-functional website in Europe, following initial testing in the US and Canada.
The new website, which offers quick product viewing and user-friendly navigation, has a focus on product and imagery, and highlights the brand's penchant for innovation, said the luxury label. It utilises an easy, linear approach across the site that takes visitors to the catwalk to showcase Ferragamo fashion collections including menswear, womenswear, and accessories.
In addition, new, integrated e-commerce and omnichannel functions also give shoppers direct access to boutique products and the chance to order online and collect their purchases at the store of their choice.
The website's architecture and layout has also specifically been designed to optimise the e-commerce functions for all types of devices, from smartphones to tablets.
"We wanted to combine the contemporary modernity and style of today's Ferragamo with the brand's intrinsic legacy," said Eraldo Poletto, chief executive of the Salvatore Ferragamo Group. "Salvatore Ferragamo is constantly evolving and our web division has managed to capture it and make it even easier to use on the new website, with a clear, elegant and dynamic language that speaks to users with vibrancy and colour."
The website was initially launched in the US and Canada, and is now being rolled out across Italy and Europe, as well as China. The new makeover will the roll out across the rest of Asia, Australia and Latin American by the end of 2018. When the rollout is complete it will cover 28 countries around the globe, offering Salvatore Ferragamo products in 13 different currencies.
Images: Salvatore Ferragamo website