AFP

|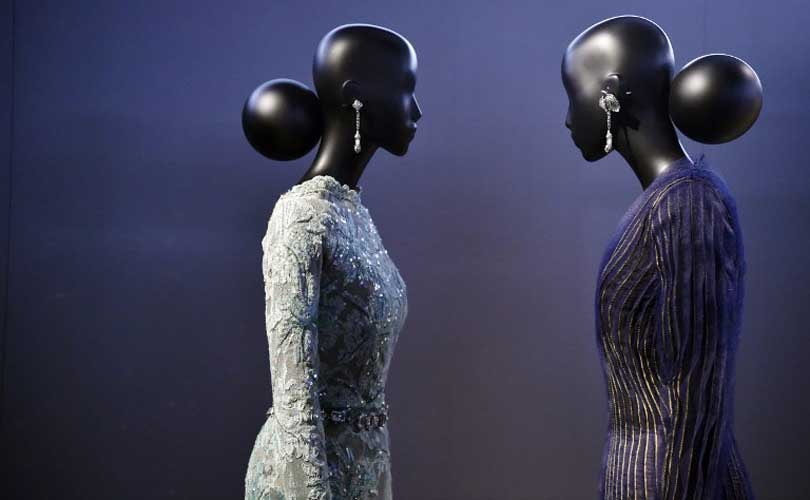 A huge show about the fabled French fashion house Christian Dior which opens Wednesday has had a galaxy of stars making the pilgrimage to Paris.
With Hollywood actresses Jennifer Lawrence, Kirsten Dunst and Kristen Stewart already in town for the label's haute couture show, Stewart's "Twilight" co-star Robert Pattinson queued with models Bella Hadid, Karlie Kloss and Cara Delevingne to get a sneak peak of the retrospective at the city's decorative arts museum.
While Dior -- celebrating its 70th anniversary -- has become synonymous with classy highly feminine glamour, fashion was not its founder's first love. Christian Dior came to clothes through art after setting up a Paris gallery to "champion the most avant garde of artists", said the exhibition's curator Olivier Gabet.
"It was he who gave Salvador Dali and Alberto Giacometti their first shows" in the French capital, he added. And it was his friendships with artists Jean Cocteau, Max Jacob and Pablo Picasso that helped sustain him through a difficult decade after his gallery closed in the Depression.
Dior, a talented artist, began designing theatre costumes and from there took his first steps into couture.
Superstitious
Hugely superstitious, he only made the final leap after a tarot reader told him he would head his own fashion house. Two years later in 1947 his "New Look" revolutionised fashion, throwing wartime austerity out the window, trailblazing a new femininity.
Tarot and astrological motifs would later become one of Dior's trademarks. Historian Florence Muller, who co-curated the show, said the "New Look" became "emblematic", with the show tracing how the six designers who came after Dior subtly adapted it -- and how rival houses still "reference" it to this day.
The spectacular exhibition -- which includes more than 300 haute couture gowns and dresses -- documents how Dior became the go-to brand for stars from Lauren Bacall to Marilyn Monroe, Elizabeth Taylor and Sophia Loren. It also reveals that Dior named his famous Bar suit after the bar of the Plaza Athenee hotel next to his headquarters on Avenue Montaigne between the Champs Elysee and the River Seine.
Ever the artist, Dior spent much of his time in the country drawing, leaving the nitty gritty to Marguerite Carre, who headed his studio. "I think of my work as ephemeral architecture dedicated to the beauty of the female body," he said.
It was, however, to prove far from ephemeral. When Dior died suddenly at the age of 52 from a heart attack in 1957 his mantle fell on his timid young assistant Yves Saint Laurent, who was only 21 at the time.
Yet in his very first collection Saint Laurent invented the "trapeze dress" which became a runaway success, and he was quickly dubbed the "little prince of fashion". However, the leather jackets of his "beatnik" show were just too much for some of the brand's conservative clientele and he was bundled out the door in 1960.
'Forgotten man'
He was replaced by Marc Bohan, who despite running the house for a record 29 years, became the "forgotten man" of Dior, according to Muller. "The extravagance of his successors Gianfranco Ferre and John Galliano overshadowed a lot of what he did," said Muller even though his "Slim Look" exemplified by models such as Twiggy was highly successful.
Ferre brought an exuberance back to the label in the 1980s with flowers, feathers and rich embroidery while Gibraltar-born Galliano -- then fashion's punk rebel -- brought a strong dose of British eccentricity and theatricality, she added.
"Even so Galliano had a strong connection linking him with Dior in his vision of strong femininity, with tight waists and ample hips," she told AFP. The Belgian Raf Simons stepped up to the mark in 2012 after Galliano was sacked following a drunken rant in a Paris cafe.
Muller said the show demonstrates that Simons' work was less minimalist than his reputation might suggest. "You can get the impression it's quite simple but close up you can see the complexity," she said citing organza cut by laser and a dress make entirely of tiny feathers.
The exhibition ends with the Italian Maria Grazia Chiuri, Dior's first female artistic director who took the reins last year. "This exhibition is not just about Dior. It is about women in every era which is fascinating for me," she said. "Christian Dior, Maker of Dreams" runs until January 7. (AFP)
FashionUnited

|
IN PICTURE
In the midst of Paris Couture week, the Musée Les Arts Décoratifs will open the doors to their largest retrospective dedicated to fashion, marking the 70th anniversary of the House of Dior.
'Christian Dior, Dream Couturier' is spread over 32,000 square feet and was designed by interior architect, Nathalie Crinière. Featuring 300 haute couture gowns, along with documents such as photographs, sketches, illustrations, letters and advertising - the exhibition follows the Haute Couture house from opening in 1947 to Maria Grazia Chiuri's artistic direction in 2017. The exhibition was inaugurated by the French fashion house at the end of Chiuri's autumn/winter 17/18 Paris show yesterday afternoon and will be opened for the public on Wednesday.
The exhibition explores how the six artistic directors that succeeded Christian Dior have continued to shape the couture house - with six galleries in succession dedicated to Yves Saint Laurent, Marc Bohan, Gianfranco Ferre, John Galliano, Raf Simons and today Maria Grazia Chiuri.
Oliver Gabet, Director at Les Arts Décoratifs curated the exhibition with Florence Müller, who worked on 'Espirit Dior' in Beijing, 2012. Gabet told WWD that "the idea was to show that the universe of the Christian Dior house is extremely sophisticated and cultivated, drawing inspiration from many different sources".
The extensive exhibition borrows many unseen artefacts from the Dior Héritage archive as well as from museums and galleries including The Costume Institute at the Metropolitan Museum of Art in New York, London's Victoria and Albert Museum and the Fondation Pierre Bergé-Yves Saint Laurent.
"One of the purposes of this exhibition is for people to really understand the level of detail that goes into these haute couture creations, because they go by too fast in a catwalk show, which very few people attend, and it doesn't come across in photographs," Müller noted.
The exhibition begins with a classic gown from 1947 - representing Dior's 'New Look' - the silhouette that created the post-war ideal of an hourglass figure. Continuing through the six successors designs, with stand out pieces including Galliano's full-length python dress with accompanying Egyptian death mask.
The retrospective comes to end with Maria Grazia Chiuri's defining pieces. Which she added to in her haute couture show on Monday in the garden of Paris's Hôtel des Invalides - paying homage to female explorers such as the aviator Amy Johnson with a one piece shearling flying suit.
Photos: Alain Jocard, AFP
Sara Ehlers

|
Calvin Klein's chief creative officer Raf Simons just released a passion project. Collaborating with musicians The XX, Simons also worked with filmmaker Alasdair McLellan on the creative concept for the video.
As Simons is known for his creativity, he has helped lead the Calvin Klein brand. His motivation for working with The XX came from his admiration of the band's work with past music videos such as "On Hold" and "Say Something Loving." In order to create the third piece of the trilogy, Simons worked to add atmospheric elements and also incorporating a cast of Calvin Klein collaborators.
With his work on sophisticated silhouettes, Simons heads towards the music industry for this collaboration. "For Simons, L.A. is a place of high art, everyday unreality, as well as the stage set for all of our favorite high school melodramas," according to the Calvin Klein website. The "I Dare You" music video Simons collaborated on was filmed in Los Angeles and is currently featured in the men's Spring 2017 Calvin Klein Underwaer advertising campaign. The video debuted today on June 29 and is available now on Youtube.
FashionUnited

|
Representatives of over 180 different indigenous cultures recently called upon the United Nations (UN) to outlaw cultural appropriation in fashion at a meeting in Geneva. Should their calls be heard, the fashion industry will need to start thinking twice about its use of designs from around the world as it has traditionally been perceived as public enemy number one when it comes to misuse of others' cultural property.
The World Intellectual Property Organisation (WIPO), a United Nations agency, is being asked by a special committee to bring in "effective criminal and civil enforcement procedures" to stop companies commercializing others' cultures.
The Intergovernmental Committee on Intellectual Property and Genetic Resources, Traditional Knowledge and Folklore has been working since 2001 to bring about such protection for cultures. The recent 34th Session has resulted in a draft document which they hope will be adopted and would mean backing for any culture/community wanting to take legal action against or needing help in matters of intellectual property rights.
Cultural Appropriation – What's all the Fuss About?
Cultural appropriation has become a bit of a hot topic over the past few years. When you have the likes of Katie Perry and Pharrell Williams being publicly lambasted for it, you know that it has some gravitas in the public eye.
Opinions are divided. On one side of the extreme, some say we should all be able to use, borrow, be inspired by and take from other cultures as we like. At the other end, some voices say we should never ever use anything from a culture, not of our own. In the middle, the recognition is that when talking about 'cultural appropriation' it is very specific in that it refers to taking from another culture, using it for your own gain, slapping your own interpretation on that culture and commercializing it without any tip of a hat or financial contribution to the culture.
It is the latter interpretation that the committee is trying to protect cultures from.
Fashion and Cultural Appropriation – Public Enemy Number One
Although there are plenty of examples from outside of fashion, such as ripping off Hindu holy festivals or stereotyping of Asian culture by food bloggers, it is, without a doubt, the fashion industry that tops the charts when it comes to examples of cultural appropriation. High-street fashion retailer Top Shop recently caused outrage for using the Palestinian black and white scarf design for a new summer dress. The "keffiyeh" has very strong associations with Palestinian history, culture, and politics. Seeing their identity turned into a pretty dress drew extremely harsh criticism which led to Top Shop pulling the item.
.@Topshop decided it would be ok to take a Palestinian keffiyeh- a very important cultural symbol- and make it a "scarf playsuit." NOPE. pic.twitter.com/oiGokzbzuz

— Dena Takruri (@Dena) April 4, 2017
Then there is luxury fashion house Chanel, who included a boomerang in their spring-summer 2017 catalog. The 'luxury' boomerang priced at 2,000 dollars quickly resulted in a backlash from Aboriginal groups in Australia who were angered over their cultural property being branded and sold with no recognition of their rights. The company defended the continued sale of the boomerang arguing it had sold them since 2006.
Having so much fun with my new @Chanel boomerang ???????? pic.twitter.com/8w6jGPIuYU

— Jeffree Star (@JeffreeStar) May 15, 2017
Designer Roberto Cavalli found himself dealing with protestors at fashion events and an organized social media campaign against him when he used a little known sacred symbol from a group of Muslim mystics. Some 500,000 students of the Maktab Tarighat Oveyssi (MTO) Shahmaghsoudi School of Islamic Sufism realized he had pilfered the symbol and made sure the world knew about it.
"We're not going to stop until we get our symbol back" Muslim students protest outside Roberto Cavalli #takeofflogo pic.twitter.com/WaSpFVa78r

— Loudhailr (@Loudhailr) February 25, 2015
Kokon to Zai (KTZ) a UK-based label was called out for blatant cultural appropriation by the great-granddaughter of the one of the last Shaman of the Canadian Inuit. Salome Awe noticed her grandfather's garments from 1922, captured in a photo, had essentially been copied by the designers. The company defended its actions as "appreciation".
Looks the same to me. Kokon To Zai should be compensating these people, 'tribute' or not. pic.twitter.com/JhnjX9vU54

— Iulia Leilua (@iulialeilua) November 26, 2015
"Appreciation" or "Appropriation"?
The massive gray areas that exist in the cultural appropriation debate at present leads to an inconsistent response where it is called out. Some companies defend their actions, others backtrack, others don't know what to do. The reason being that no clear lines exist in law or statute.
It may be that this is about to change in the future. Should this be the case then the fashion industry needs to start thinking about how to work with the cultures they are inspired by, how to share benefits and how to promote a sustainable future for all.
Can the fashion industry perhaps agree on a best practice when it comes to 'cultural appreciation'? One aligned with potential new international laws as well as with, it seems growing public opinion on what is acceptable when it comes to commercializing others' cultures.
Written by Neil Payne, an expert in cross-cultural communication at Commisceo Global – a training company specialising in culture and business. When he isn't working you can find him in the greenhouse.
Homepage Photo: Valentino Spring/Summer 2016 ad campaign, by Steve McCurry
Danielle Wightman-Stone

|
The Zac Posen documentary, House of Z, which made its world premiere in April at Tribeca, has been acquired by Conde Nast Entertainment and will be distributed to rent on Vogue.com.
Directed by Sandy Chronopoulos, the fashion feature-length film chronicles the fashion career of Zac Posen, starting from his meteoric rise at the age of 21 to the glamour behind one of New York's most distinguished brands.
According to the Hollywood Reporter, Conde Nast Entertainment will distribute House of Z exclusively for rent on Vogue.com in September to coincide with New York Fashion Week.
"We see [Vogue.com] as the perfect fit for our audience while also giving us a chance to attract new viewers," Dawn Ostroff, president of Condé Nast Entertainment told the Hollywood Reporter. "House of Z is a wonderful film and being able to exclusively provide it to our audience is a great opportunity for Condé Nast and we are very pleased to be working with Zac, Sandy and the iDeal team."
The documentary showcases the ups and downs of his fashion label through archival material and interviews with Posen's past and present team, as well as critics, journalists, fashion insiders and celebrities, such as André Leon Talley, Paz de la Huerta, Naomi Campbell, Claire Danes, and Sean "Diddy" Combs.
Don-Alvin Adegeest

|
A new documentary has exposed the harsh reality and often cruel suffering of factory workers who make the garments of some of the world's best-known high street brands.
The film, called Machines, highlights the life of Jain, a factory worker in India. In the first 13 minutes of the film, there is no dialogue, with the camera captures the contrast between the giant machines, which guzzle up fabrics like robots, and then the workers who are no less mechanical in their working as they mix dyes, stoke furnaces and handle the fabrics.
Days are filled with dehumanising physical labour and hardship
Director Rahul Jain takes the viewers into the reality of the factory worker's world, capturing the exhaustive monotony of their tasks. The film examines the dehumanizing physical labor and hardship in the factory, exposes the pre-industrial working conditions and the huge divide between first world and developing countries. Though "Machines" only portrays one of these factories, it also represents the thousands of laborers as well.
When there is dialogue, we hear from the workers themselves – and at one point from their fat-cat boss, who matter-of-factly tells the camera that he shouldn't pay them so well as they're much more dedicated to the business when their bellies are empty. By "so well" he means three US dollars per 12-hour shift and most of the workers take just one hour's break between shifts, such are the financial pressures of providing for their families, states Dazed & Confused. The men discuss the need for unionisation and strike action, as well as the dead-end any attempt at this inevitably leads to – "the bosses just ask who the leader is, and then kills them," the viewer is told.
Delhi-born, U.S.-educated director Rahul Jain captured the footage in Gujarat, India's westernmost state. According to Variety, the results are surprising; while the visuals are hypnotic and frequently beautiful, the stories jar with our concepts of poverty in the modern age, as it is revealed that many of these workers are already in debt, having taken out travel loans to work 12-hour shifts and earn wages of just 7,000 rupees (approximately 100 Us dollars) per month.
Photo credit: Film still from Machines
AFP

|
They dress like celebrities and can increasingly be spotted on the world's catwalks and red carpets. Meet the "influencers", the most famous people you've never heard of.
For 70 years, the Cannes film festival has been a key event on any A-lister's calendar. But move over Nicole Kidman, there's a new breed of star in town: social media personalities invited purely on the grounds of their huge Instagram or YouTube followings.
Sharing the red carpet with Kidman and Will Smith this week have been beauty bloggers like 17-year-old Amanda Steele (2.8 million YouTube subscribers) and Swiss Instagrammer Kristina Bazan (2.4 million followers).
Maja Malnar, who makes a living from her blog and 264,000-strong Instagram following, admits she's struggled to explain her job as a "social media influencer" to her mother back in Slovenia.
Years ago she started posting snaps of her daily outfits on the photo app and blogging about her travels. These days she's part of a growing industry known as "influencer marketing", whereby brands seek to harness the power of powerful web-users by slipping their products into their posts. "It's a good business, I can't complain," Malnar told AFP.
The petite blonde, who is in her twenties but declined to give her age, is set to walk the red carpet Friday in a tie-up with MasterCard and the designer who provided her dress. She'll then have to post about it.
"We're entrepreneurs. We saw a gap in the market and we capitalised on it," says her friend Lorna Andrews, a British ex-air hostess who modestly calls herself a "mid-tier influencer" with 464,000 Instagram followers.
Cannes is no stranger to those famous for being famous -- socialites like Paris Hilton have been turning up for years -- and brands have long recognised the festival's power as a marketing opportunity.
Top-end labels and jewellers have for decades dressed the stars for free at Cannes, knowing they will be snapped there by the waiting paparazzi.
But the arrival of the "influencer" at the world's biggest film festival -- and at international fashion weeks -- is a new phenomenon.
Ordinary Janes and Joes
About 18 months ago Edouard Hausseguy, a 27-year-old Frenchman, realised the money-making potential of people whose photos, restaurant tips and beauty tutorials are followed by millions online, even though most would not recognise them on the street.
He set up his agency Hemblem to represent anyone with a following of 30,000 and up -- negotiating deals with brands, and then taking a cut.
"Those people are people like us, but they speak to millions of people with one picture," he told AFP in an interview on a yacht moored at Cannes, where he's hoping his influencers will benefit from the presence of top brands and the media.
For the festival, Hemblem has filled a villa with influencers who are splitting their time between glamorous events and furiously posting online, whether it's about designer labels or a charity for Syrian children.
Co-founder Thomas Elliott said brands were catching on to the power of a recommendation from Instagrammers to shift products from the shelves. "Jane next door or Joe next door is probably better for product placement, as people can identify with these people," he said.
It's possible to get paid for a single post -- "the fee depends on the size of the following", said Joe Gagliese, co-founder of Viral Nation, a rival agency based in Toronto.
"It could be $100,000 if you have over five million followers."
Compare and despair
With 13 million followers apiece, supermodels Bella Hadid and Emily Ratajkowski rank as the true Instagram queens of Cannes.
Their accounts offer red carpet glamour and a peek behind the scenes, like Hadid sipping champagne while preparing for a premiere. Partner brands are carefully name-checked: make-up by Dior, jewellery by Bulgari.
Further down the food-chain, posts by smaller fish in the "influencer" pond still tell of a life of cocktails and beautiful clothes -- but the reality may be a little less glamorous.
There are constant worries of where the next event or brand tie-up might come from, and some re-sell the clothes they are gifted to make ends meet. And behind the glitz there is a constant pressure to post that Andrews and Malnar say can be stressful.
Neither expects to do this job forever. Women aged 18-30 make up the bulk of their followings, and unless these shift there'll come a day when they won't match their young demographic.
Youngsters' heavy use of Instagram is a worry for mental health experts, who warn these glimpses into the glamorous lives of others encourage depression and anxiety by prompting a "compare and despair" attitude.
There's a constant stream of appreciative comments under posts by Hadid and Ratajkowski, but also wistful ones.
Under a video of Hadid wearing custom Roberto Cavalli, one user sighed: "Can I just be her for one day?" (APF).
Homepage photo: Swiss blogger Kristina Bazan poses as she arrives on May 22, 2017 for the screening of the film 'The Killing of a Sacred Deer' at the 70th edition of the Cannes Film Festival in Cannes, southern France. - Credit: Valery HACHE / AFP
AFP

|
French fashion house Chanel has triggered an uproar by selling a luxury monogrammed boomerang with a price tag of nearly 1,500 USD, with critics saying the accessory is an insult to Australian Aborigines.
Chanel is accused of turning the hunting weapon, an important part of Aboriginal heritage, into a status symbol by offering a black wood and resin boomerang for sale in its spring-summer collection.
"When I think about Aboriginal culture, I think @chanel," Aboriginal activist Nayuka Gorrie tweeted sarcastically. "Have decided to save for the next three years so I can connect with my culture via @CHANEL."
When I think about Aboriginal culture, I think @chanel https://t.co/ocZSljGkPW

— Nayuka Gorrie (@NayukaGorrie) May 15, 2017
He told the Guardian Australia that the item was "so wrong it is almost absurd"."Having a luxury brand swoop in, appropriate, sell our technologies and profit from our cultures for an absurd amount of money is ridiculous and hurtful," he said, pointing out that indigenous people were the most disadvantaged in Australia and had to fight to preserve their traditions.
The furore kicked off when American make-up artist Jeffree Star posted photos online of the boomerang on Tuesday, sparking ridicule.
Having so much fun with my new @Chanel boomerang ???????? pic.twitter.com/8w6jGPIuYU

— Jeffree Star (@JeffreeStar) May 15, 2017
"@JeffreeStar, rather than paying $2000AUD for a Chanel Boomerang you should look into investing in one made by an Aboriginal Australian," tweeted user LSP.
@JeffreeStar, rather than paying $2000AUD for a Chanel Boomerang you should look into investing in one one made by an Aboriginal Australian.

— LSP (@zzoeeseymour) May 15, 2017
Another said on Twitter: "@CHANEL your 'boomerang' is tacky and a gross appropriation of indigenous culture for your own profit." Chanel released a statement saying it was "extremely committed to respecting all cultures, and regrets that some may have felt offended".
Boomerangs have played an important role in Aboriginal culture for thousands of years as objects of work and leisure. They have also become popular mass-produced souvenirs. (AFP)
FashionUnited

|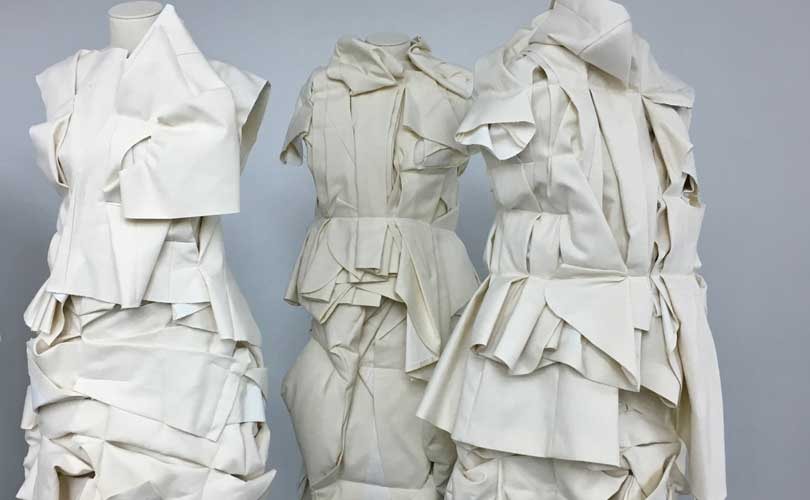 Over the years Rei Kawakubo has addressed many of life's big questions in her work––art, marriage, death, spirituality––and some little ones too. Here are her thoughts with images from the Met's exhibition of her work.
On Gender:
"Spiritually, there are no more differences between men and women. What is important is being human."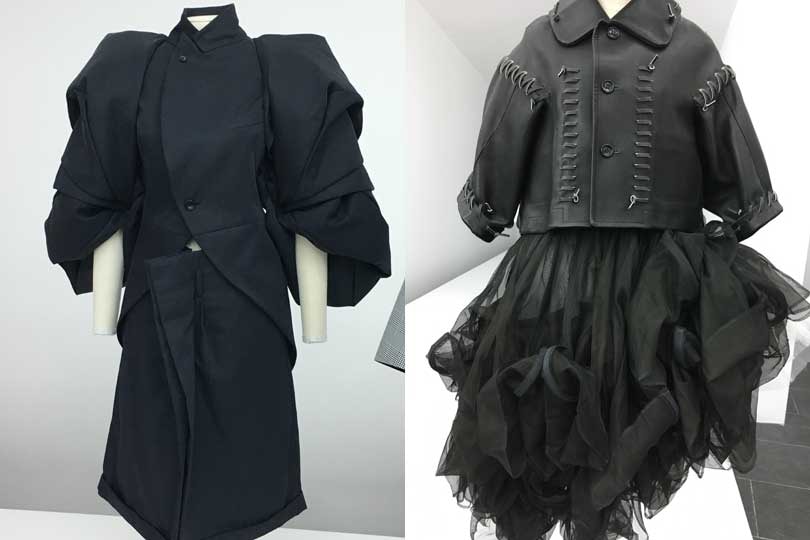 On Female Designers:
"The sexual overkill and exposed bodies in fashion are the result of men designing for women. I think that more interesting results arise when women design for themselves."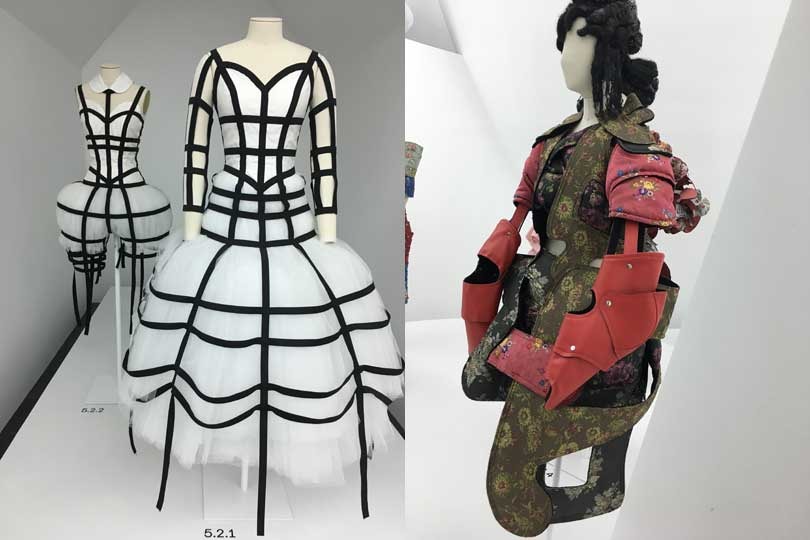 On Feminism:
"I am not a feminist. I was never interested in any movement as such. I just decided to build a company around creation, and with creation as my sword, I could fight the battles I wanted to fight."
On Punk:
"I like the punk spirit. I've always liked the spirit in the sense that it's against the run of the mill, the normal way of doing things. Every collection is that. Punk is against flattery, and that's what I like about punk."
On Beauty:
"Fashion design is not about revealing or accentuating the shape of a woman's body; its purpose is to allow a person to be what they are."
On Black:
"I design in three shades of black… Color distracts from form."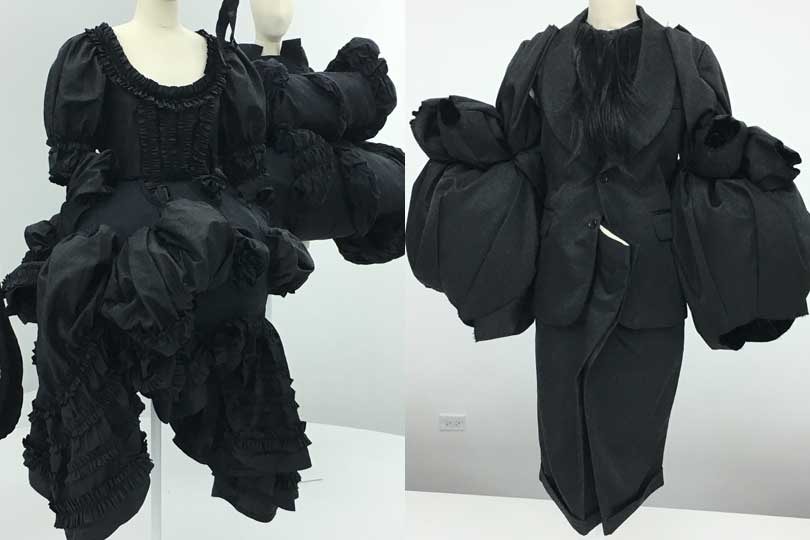 On Being Over Black:
"Red is black."
On Geometry:
"To me the circle is the purest form of design in existence."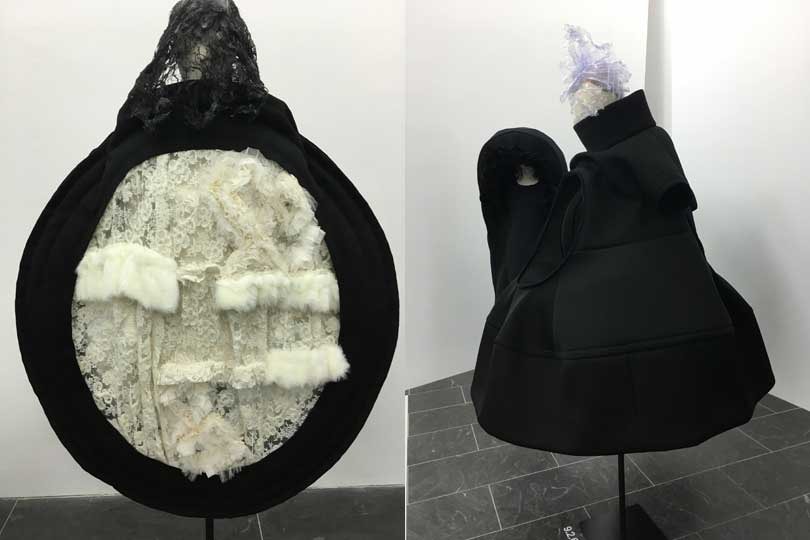 On Form"
"All my effort is orientated towards giving form to clothes that have never been seen before."
On Math:
"One plus one could amount to three or even four."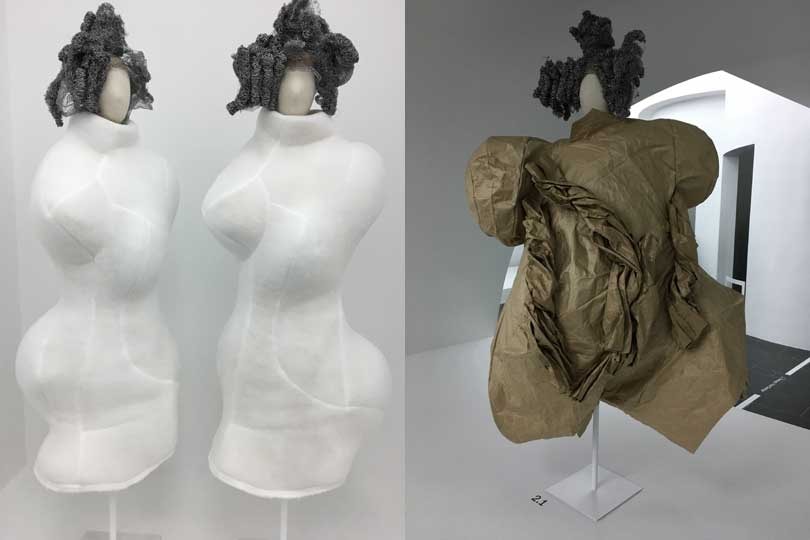 On her State of Mind:
"I am an adult delinquent, to the end."
On Landfills:
"Instead of [people] buying three pieces of clothing in a month or a year, why not buy one they can afford and enjoy it. Rather than creating a lot of clothes, I wish people would value creativity so that the world will not be filled up with rubbish clothes."
On Outsiders:
"The monsters I thought about are those that don't fit in––those who think differently from the majority, the people of exception, outsiders. I wish that society would place more importance and value on these kind of monsters."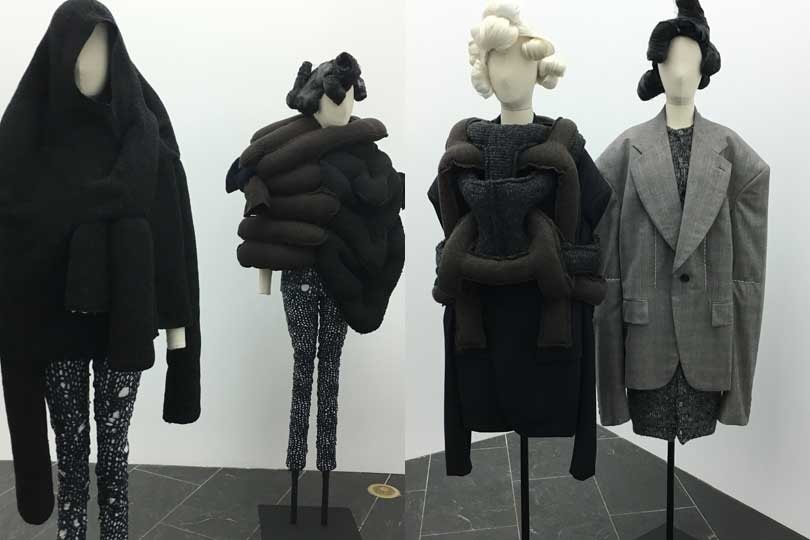 On Spirituality:
"Perhaps because Comme des Garçons stands for a totality of thinking, a commitment to a whole, a faith in the strength of the individual and his potential, people can find a spiritual dimension."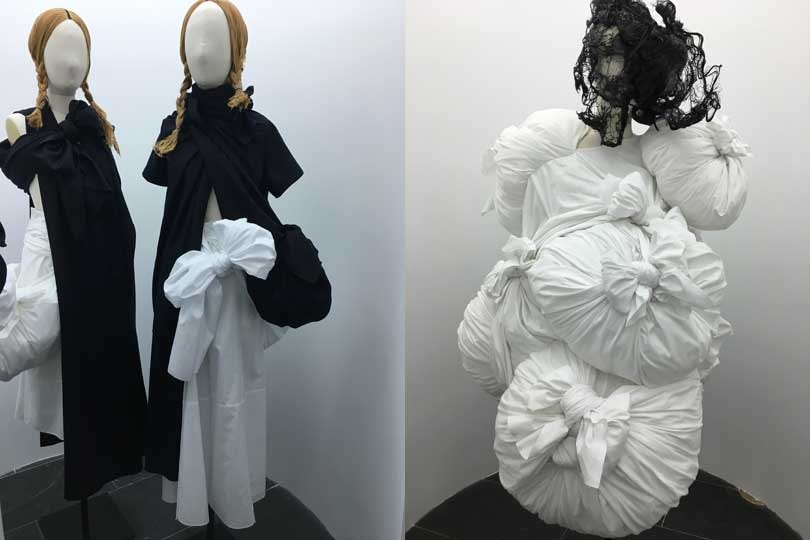 On Gold:
"Gold is the color of the Catholic Church… it is also the color of Dubai, of marble-floored shopping malls, and also of teapots."
On Flowers:"
"Flowers are happy and positive. Flowers, when blooming, are in their peak of energy and strength."
On Blood:
What flows through everyone is blood… [Blood] is the state of being alive."
On Tailoring:
"I have always liked traditional English menswear."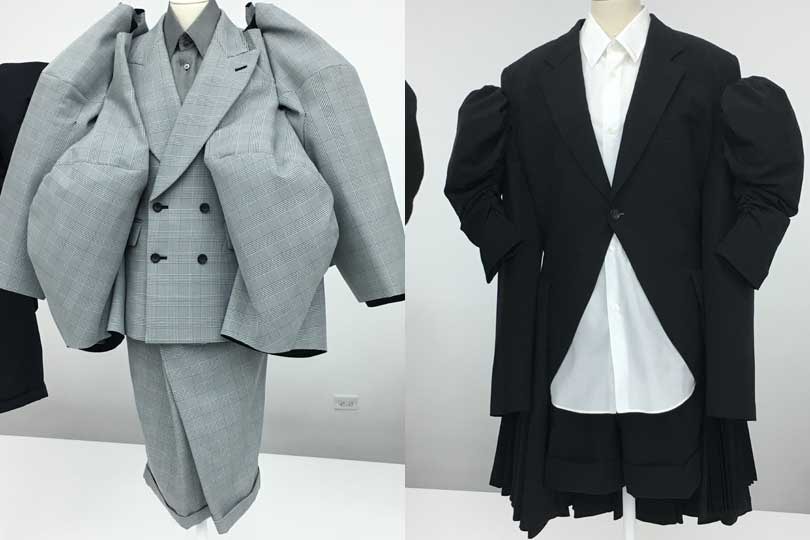 On The Inner Child:
"…since I cannot be a child, I began to think, how can I make the kind of clothes children would make? How can I make childish clothes?"
On Marriage:
"By breaking the rules of wedding dresses, by going behind the idea, there was born the information that marriage is not necessarily happy."
On Balance:
"I'm more comfortable with off balance––the unbalanced and asymmetrical. But what I do is try to create a balance in the whole, because I'm aiming at presenting the total image, not a haphazard or random world."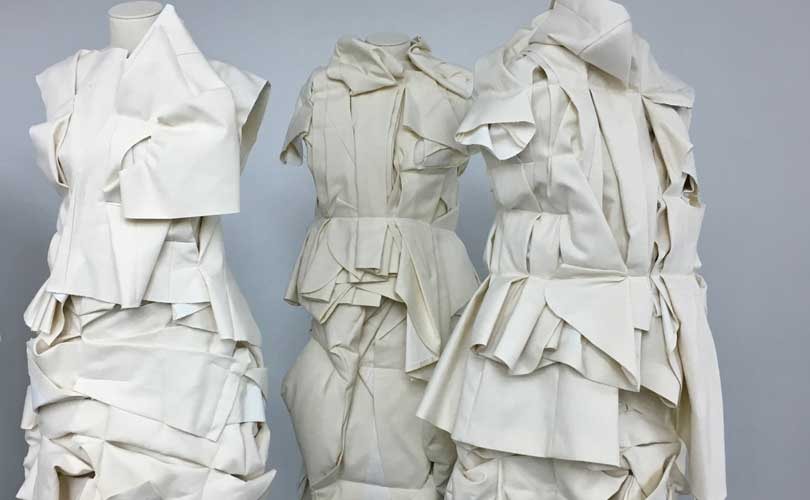 By contributing guest editor Jackie Mallon, who is on the teaching faculty of several NYC fashion programmes and is the author of Silk for the Feed Dogs, a novel set in the international fashion industry.
All photos by Jackie Mallon for FashionUnited. Words compiled from the exhibition's companion book.
FashionUnited

|
EXHIBITION REVIEW It wasn't a regular Saturday morning at the Met Museum. Conflict erupted on the third floor, the antagonism cutting through the air in stark contrast with the sprigs of cherry blossom scenting the foyer. No one came to blows but the tension was palpable. Residual shade may still be thrown within this text.
Whose side are you on?
The Comme des Garçons exhibition may be entitled "Art of the In-Between," but Rei Kawakubo does not reach across the aisle. So there we stood, divided.The fashion diehards on one side, awed into silence, feet planted in chunky shoes, wrapped in chains, flounces, and plastic, with blunt-cut hair; on the other The New York Times-toting, jeans-and-sneakers clad regular with brunch plans, whose voice travels all the way to The Dakota. Two tribes go to war, the first religiously devoted to Kawakubo's uncompromising, absolute nonconformity to notions of gender, beauty, even design itself; the other, viewing exhibits displayed on mannequins and therefore expecting apparel. It can't end well.
I sidestep a group of girls on the trail of "Rihanna's dress." The singer famously "won the Met Ball" according to Instagram when she showed up dressed in Comme des Garçons just a few nights before. One of the group misidentifies a veiled exhibit as "the one Katy Perry wore" when we of the tribe know Perry wore Maison Margiela, not Comme des Garçons. Novices.
Ducking fire from little monsters
Celebrity references form part of contemporary dialogue around fashion and particularly the Met Ball, so inevitably one visitor declared, like a clairvoyant experiencing tremors, "Ohhh I'm getting serious Gaga vibes." While Lady Gaga has indeed worn a few of Kawakubo's creations in recent years, it's jarring for a longterm devotee to hear the Japanese revolutionary's forty years of energetic disruption reduced to…Joanne.
The Comme des Garçons universe requires full immersion, no dabbling. But in return for your commitment, it offers the same joy and mind-expanding optimism experienced by lovers of modern art. Seeing the decades of evolution on display is like following Picasso's journey from early sketches through his blue period to the various depictions of Marie Thérèse and Dora Maar, but this was not even a retrospective. And while painters or sculptors are permitted to be abstract and grandiose, visionaries working in clothing don't seem to be offered that freedom. Kawakubo snatched it anyway, years ago, and holds onto it tightly. She doesn't call herself a fashion designer, having no formal training in it; it's only the rest of the world that labels her that way:
"I have never thought about fashion…I have almost no interest in it. What I've only ever been interested in is clothes that one has never seen before, that are completely new, and how and in what way they can be expressed. Is that called fashion? I don't know the answer."
A Bumpy ride
An older gentleman pulls away from the wall he is leaning against, muttering, " I dunno, none of it does much for me…" His wife who had been staring at a display described as Body Meets Dress, Dress Meets Body, in particular a blue and white gingham nylon dress with bulbous swellings stuffed with goose down padding on the side, delivers her verdict, "Not an area I want to accentuate," and trots after him. Why aren't you reading the pamphlet? I want to call after them. She's rethinking the hourglass…
One of my favorite displays is entitled Child/Adult and many observers seem genuinely enthralled by the exuberantly patterned pieces on display. A crayola-colored floral dress with frills and tentacles can't fail to put one in good humor and two ladies next to me are clearly under the influence of it. But then I realize they are in fact imagining their granddaughters in it. Age appropriateness is a convention that can be challenged, I want to interject, but decide to maintain my monk-like silence.
I enjoy hearing a woman explaining to her male companion, "It's the same as if you look at a piece of Claes Oldenburg art, you know, his fabric sculptures…" "Or John Chamberlain?" he asks, hopefully. "Exactly, or John Chamberlain. " They continue on, smiling. I'm smiling too.
Day of holey worship
I overhear the word "Homeless," used to describe the "holey" sweaters of the early 80s famously captured in black and white by photographer Peter Lindbergh, and refrain from saying that fashion students at the time would have made themselves homeless just to get their hands on one.
"But there's nowhere for your arms to go!" exclaims a voice. I spin around. Your arms might be trapped but your mind is free, did you ever think of that? "Who wears black to get married?" I spin back. Actually, everyone did before Queen Victoria decided to shift to white.
The display entitled Birth/Marriage/Death elicits plenty of interest. One lady jokes, "Well that about sums it up!" and her entourage laughs overly-loudly. It seems to be in relief that they have found something they can connect with.
Then: "Imagine a widow walking into her husbands' funeral like that." Would he have that much to say on the matter? I think. "That's some real Miss Havisham crap right there." Now you're getting into the thinking of it. "I like the rose. But I don't like the outfit." No, you've lost it again: you're using the word "outfit." Leave that kind of low-down talk at the door on your way in.
Fade to grey
The most egregious remarks of the morning come from two out-of-towners guffawing loudly. "Aren't you glad you didn't fly in just for this!" says one, to which her friend replies, "Honestly, there's nothing redeeming about any of this."
Oh no she didn't. Bouncer! Can we show this pair of troublemakers the exit?
But I'm fighting a losing battle. This is the art of the in-between, and that grey area is the very source of the conflict. Just because clothing is placed in a major museum setting doesn't mean people will leave behind all the preconceptions they associate with everyday attire. Instead they will arrive (cross over?) armed with their knowledge of red carpet codes, utilitarian demands, sexiness quotients and apply them to Kawakubo's avant-garde system of dress despite what the brochure explains of her intentions. Everyone owns clothing; it's more democratic than other mediums of creative expression. So everyone feels qualified to opine.
Therefore I'll leave the final word to Ms Kawakubo herself: "Personally I don't care about function at all… When I hear 'where could you wear that?' or 'it's not very wearable' or 'who would wear that?' to me it's just a sign that someone missed the point."
Point made. Signing off, flouncing my Comme…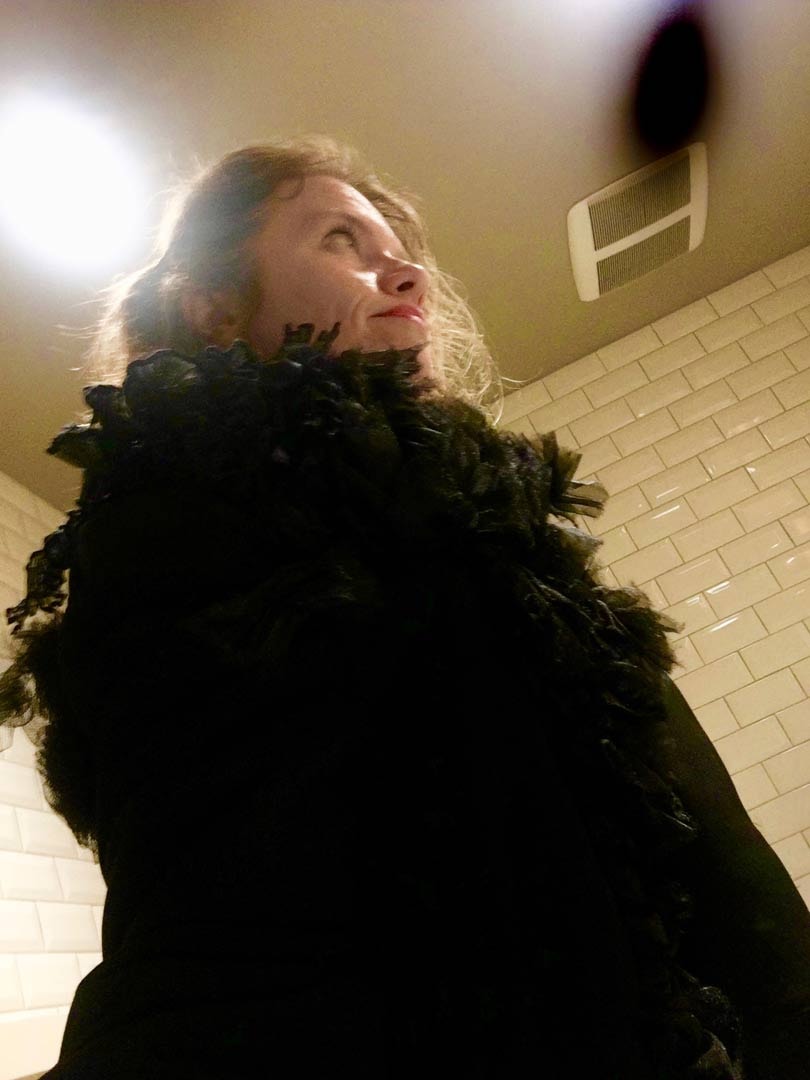 By contributing guest editor Jackie Mallon, who is on the teaching faculty of several NYC fashion programmes and is the author of Silk for the Feed Dogs, a novel set in the international fashion industry.
Photos taken by Jackie Mallon for FashionUnited; header photo The Met Facebook page.