Vivian Hendriksz

|
London - Luxury fashion house Gucci has teamed up with Dapper Dan to open a studio atelier in Harlem. The new studio atelier pays homage to the couturier's original shop, Dapper Dan's Boutique, but features a contemporary interpretation for a new generation.
The new atelier opening comes twenty-five years after the closing of Dapper Dan's original boutique in 1992. Customers now have the opportunity of ordering bespoke Dapper Dan of Harlem garments, which will be made by Dapper 'Dap' Dan, using Gucci raw materials, fabrics, prints, embroidered patches, and hardware. All custom-made items will be exclusively sold at the new atelier on Lenox Avenue, which is set to open "by appointment only" from January 2018.
"Everyone paid homage to Dapper Dan, but no one ever paid him," said Dapper Dan. "The people have spoken and Gucci has listened. Nothing has been more significant in the Harlem cultural scene than Alessandro and Gucci coming to Harlem and partnering with Dapper Dan." In addition to launching this Harlem project, Gucci has also partnered with Dapper Dan for a unique capsule, which is set to be part of Gucci's Fall 2018 collection and will launch in Gucci stores around the world.
The new atelier spans approximately 4,700 square foot and is housed in a historic brownstone, featuring and includes an on-site production area. The interior of the atelier features velvet partitions, cherry red boiserie wall panels and white decorative tin ceiling throughout the ground floor. All rooms feature a combination of leather and wood vintage furniture piece.
The parlor floor is accessible through a separate entrance via a brownstone staircase and other historical detail elements, such as crown moldings, decorative millwork, and pocket doors have been left intact. Archival photographs from Dap's heyday have been used to decorate the walls throughout. The atelier's custom design references both Gucci's Creative Director Alessandro Michele aesthetic as well as the rich sartorial heritage of Harlem that was embodied by Dap's original location.
Photos by Renell Medrano
Vivian Hendriksz

|
London - In an industry which tends to focus on unrealistic body standards, fashion retailers which take a stand against the constant portrayal of the slim, white young model in lieu of a more diverse and inclusive body type are often celebrated. Which is why consumers are now applauding Missguided new, unretouched fashion campaign.
The British fashion retailer previously caught the public's attention last month when it shared photographs of swimwear models unairbrushed as part of its new initiative. Now Missguided has decided to take things one step further by recruiting 9 models, social media influencers and body-positive activists to star in the new campaign "Make Your Mark." The campaign, which celebrates individuality, encourages people to celebrate their so-called flaws and also sees the retailer make a vow to never airbrush its models' imperfections again.
"As part of our new #keeponbeingyou movement we're on a mission to inspire babes the world over to love themselves, for themselves, to embrace your flaws and not to strive for what the world perceived as perfection," writes Missguided on its new campaign. "Because f*ck perfection, it doesn't exist. We are making a pledge to never retouch our models' perfect 'imperfection' out." The campaign is part of Missguided's wider initiative, entitled 'Keep on Being You' which encourages women to be themselves.
The new campaign, which stars model Emily Bador, model and body positivity activist Felicity Haywards as well as designer, artist, and model Jade Laurice has been praised by consumers around the globe.
This @Missguided campaign is E.V.E.R.Y.T.H.I.N.G!!! Size or appearance doesn't define your beauty #MAKEYOURMARK pic.twitter.com/QPNOpE9KW1

— Thats Totally Fetch (@totallyfetch_sa) December 13, 2017
#MAKEYOURMARK https://t.co/Fbzz7EV57G

— Crystallion Heart (@Crystallionzz) December 13, 2017
Absolutely fucking LOVE the @Missguided #MAKEYOURMARK campaign hats off to you

— Rose Shaw (@roseshaw) December 12, 2017
Well done @Missguided on your #MakeYourMark campaign. You get my Christmas money this year.

— Boun Natalie (@videonatty) December 14, 2017
So much respect for @Missguided with their #MAKEYOURMARK campaign, https://t.co/bqVkTUbIEo

— Ness (@girlwith5lads) December 13, 2017
About time clothing stores advertised the real imperfections on women's body. This makes me so happy #makeyourmark https://t.co/OBrdXobEXY

— Jemma Esposito (@JemmCasey) December 12, 2017
s/o to @Missguided for featuring models of all colors, shapes &sizes for their #makeyourmark campaign pic.twitter.com/svE21YZ06U

— cathRyN (@cathrynrae) December 13, 2017
YES @missguided we are here for their #MAKEYOURMARK campaign celebrating women and championing #bodypositivity pic.twitter.com/uK0u8vKhn9

— The Other Box (@_TheOtherBox) December 13, 2017
I am ALL FOR this Missguided #MAKEYOURMARK campaign.

There's a part of me that thinks the reality is - a lot of employers/prospective partners just don't like this look, your face/body has to fit.
It shouldn't - but it does - and that's a shame - Its why this needs to work!!

— Hollie. (@hollipopss) December 13, 2017
Photos: Missguided, Make Your Mark
Vivian Hendriksz

|
IN PICTURES London - The plus-size apparel market is growing, as more fashion retailers embrace body positivity among all sizes. High street retailers such as Missguided, Asos, and Mango have all launched collections for plus-size women, with body positive campaigns - but what about their male counterparts? Men are getting bigger, which is set to lead to a surge in the plus-size men's wear market.
In the past size XL used to refer to a 46-inch waist - now some brands are making clothing up to an 8XL, a 76-inch waist for larger men. The plus-size men's wear market is valued at 1 billion USD (744.5 million pounds) and is predicted to be become one of the strongest performance drivers in the UK fashion market over the next five years according to GlobalData. This category is predicted to increase more than 22 percent to 2022, as fashion brands and retailers alike are encouraged to extend their sizing range to be more inclusive.
Plus-size men's wear market valued at 1 billions USD
In order to shine a light on the increasing demand for plus-size men's wear, Alvanon teamed up with Brooklyn-based artist Leland Foster for a series of illustrations which reimagine what one of the most iconic big men of all, namely Santa Claus, would wear today if luxury fashion houses such as Gucci, Louis Vuitton, and Raf Simons offered plus-size menswear.
The men's body-positivity movement is currently lacking behind the women's, which has been strengthened by the likes of Ashley Graham, Tess Holliday, and Nadia Aboulhosn, who are leading the way for change on the catwalks, magazine covers as well as online. However, brands like Asos, Levi's Jack & Jones and River Island are among the few who are catering to consumers demand for trendy, plus-size men's wear by offering extended men's wear ranges going up to 6XL.
Alice Rodrigues, senior consultant at Alvanon, warns that retailers and brands interested in tapping into the full potential of men's wear plus-size market need to be aware of their body shapes. The key, she says "is to offer plus-size consumers exactly what is available to everyone else, but cut so that it caters to their body."
However big does not necessarily mean tall, as correct sizing according to shape has become a key issue for fashion retailers. At the moment there is no body shape data in the world that confirms a correlation with size and height, although the average American male waist and chest is now 39 inches and 42 inches respectively according to fit expert Alvanon. Nevertheless, it is imperative that fashion brands respond to this growing demand for plus-size men's wear, as male consumers continue to seek out more representative body types.
Photos: Courtesy of Alvanon
Danielle Wightman-Stone

|
Italian designer Roberto Cavalli is set to design the interiors of a new residential tower in Dubai, marking the first in the world to carry 'Roberto Cavalli' branding with a range of home accessories and ornate fittings.
The 'I Love Florence' tower, developed by Dar Al Arkan, the largest listed real estate developer in the Kingdom of Saudi Arabia, is located on Dubai Water Canal in the Business Bay area, is expected to start work in January, and Cavalli has been brought on to give the project a bespoke living interior that embodies "strength and glamour".
Gian Giacomo Ferraris, chief executive officer of Roberto Cavalli, said: "I see a strong correlation between Florence and Dubai, with both cities projecting elegance, art and design in everything they do, each in its own way. The new tower will embody Roberto Cavalli's passion for beauty, design and celebration of Italian craftsmanship.
"It will encapsulate the high-end luxury our fashion house has been famed for. The rich interiors of Roberto Cavalli will project bespoke living spaces adding depth, character and style. They will be an embodiment of all the strength and glamour of the maison 'Roberto Cavalli' lifestyle, delivering energy, prestige, emotion, success, and desire to experience."
The concept is to bring "glitz and glamour of the runway to private homes" utilising pieces from Cavalli interiors, with the concept images featuring luxe textures, marble, and statement prints, which the Italian designer is known for. Cavalli's interior vision will be seen across the residential units as well as the tower's amenities, including the lobbies, gym, swimming pool, yoga area, outdoor training area, and hallways.
Ferraris added: "We are excited to work on this project that combines the sophistication of fascinating Florence with the famed luxury of dazzling Dubai. The interiors of the lavish 34-storey waterfront skyscraper, located in one of the world's greatest urban transformations, will offer its residents a refined living experience that also echoes the romantic vibes of the rustic streets of Florence."
Yousef Bin Abdullah Al Shelash, chairman of Dar Al Arkan, said: "When we set out to draw our vision to become leaders in global real estate development, we decided to only settle for the best, hence our choice of Dubai Canal as a location, and the epitome of Italian luxury, Roberto Cavalli, to conceptualise and create truly outstanding living spaces, not only in the residential units, but across the tower's amenities. Residents and visitors will experience a true Florentine feeling."
Images: courtesy of Roberto Cavalli
AFP

|
New York Fashion Week will morph into a 10-day style fest next February, with a men's event being tagged onto the front of the flagship women's shows, organizers confirmed Wednesday.
Men's fashion week will "abut the women's schedule" in a bid to streamline the international fashion schedule, the Council of Fashion Designers of America said.
Men's shows will take place February 5-7, followed by women's and co-ed shows in the customary week-long slot from February 8-14, it said. The change comes as a growing number of brands merge men's and women's collections on the runway.
The fashion media suggested that the calendar switch could help menswear get more attention if editors, buyers and influencers jet into the Big Apple a bit earlier. After New York, the international fashion pack decamps to London, Milan and Paris.
But the New York schedule shift may also be an experiment. The CFDA said the following season's men's fashion week would take place July 9-12 2018 with the women's event scheduled for September 6-12. Last season's fashion week in September suffered from lackluster reviews and saw a spate of up-and-coming US creative talent decamp to Europe. (AFP)
Danielle Wightman-Stone

|
Australian luxury brand Ellery, which has shown during Paris Fashion Week for a number of seasons, is to consolidate its label into two collections a year instead of four.
This change in commercial strategy will also see the label founded by Kym Ellery 10 years ago, showing during Paris Haute Couture Fashion Week instead of the Prêt-à-Porter season, starting from January 2018.
These two collections will be released to the press and public in two "chapters", the first in January during Haute Couture Paris Fashion Week, and the second in March during Prêt-à-Porter Paris Fashion Week. However, wholesale buyers will be able to see the collection in its entirety and place orders during the couture shows.
"As we all know, the system needs to change. We need to show sooner to give time back to artisans and designers to do what they do best — create," said Kym Ellery. "I want to rediscover the feeling that I had 10 years ago, when I started Ellery. I want to bring back the dream. As an independent, self-financed growing brand, it is too difficult to chase after a schedule determined by vertical super brands."
Ellery to move catwalk show to coincide with Paris Haute Couture Fashion Week
The brand's catwalk show is scheduled for January 25, however, it is not part of the official couture schedule, the brand just states that the timing makes more strategic sense for the brand to allow them to deliver earlier in stores and remain on sale longer before markdowns, as well as create time for the design process.
In an interview with Vogue, Ellery added: "Ultimately, the benefit of this new business model is to create time; time to design, innovate, and produce designer product.
"Our aim is to give the garments and the artisans the respect that they deserve. The significant time that it takes to create a collection should be reflected in the subsequent weeks and months that the garments spend on the shop floor before being marked down."
Ellery, based in Paris and Sydney, is known for its avant-garde aesthetic, is stocked in some of the world's leading department stores including Selfridges, Browns, Lane Crawford, and Galeries Lafayette, as well as boutiques such as Dover Street Market, and online at Matchesfashion.com and Mytheresa.com.
Image: Ellery Facebook
Danielle Wightman-Stone

|
Italian luxury label Salvatore Ferragamo has opened a cutting-edge artisanal centre featuring a new design and prototyping lab for men's and women's leather goods in Osmannoro (Florence), as it looks to safeguard its design heritage and skillset.
The workshop, which has been designed to save energy and use environmentally sustainable materials, houses an additional twenty artisans to the current team of master leather workers, expanding the design lab, as part of Salvatore Ferragamo's vision to pass "indispensable artisanal expertise down to future generations," while also preserving its "heritage and know-how".
Eraldo Poletto, chief executive officer of Salvatore Ferragamo Group, said: "In keeping with the brand's philosophy, focused on the development of artisanal products that highlight the expert skills behind made-in-Italy production, the new leather goods atelier is a space for our artisans to cultivate their professional skills and passion for innovation and research, while upholding our long-standing values of tradition and craftsmanship.
"Not only does this project celebrate Ferragamo's leather crafting know-how, but it will also provide additional opportunities for the development of new products, as it enables us to test innovative materials and improve the quality and efficiency of various development processes."
Salvatore Ferragamo aims to safeguard heritage and skillset with new design lab
The workshop will also be used as an "open forum" for technical excellence and creativity with the aim of promoting research into materials, the creation of style and the crafting of products that meet market demand, said the brand.
The building was improved as part of a redevelopment project to increase safety and seismic stability, as well as reconfigure it to save on energy consumption and emissions, optimise energy absorption and use energy from renewable sources, including the installation of a new solar power system.
Salvatore Ferragamo is also in the process of construction of a new logistics hub with automated warehousing in Osmannoro that is slated for completion in 2018. The logistics hub will also be designed according to the latest energy and resource consumption standards in order to qualify for LEED Platinum certification.
Images: courtesy of Salvatore Ferragamo
AFP

|
Robert Clergerie, the maker of the luxury French shoes worn by Rihanna, Bella Hadid and Madonna, was never one to sit around kicking his heels.
When the brand that bears his name almost went bust four years after he had sold up and retired, he dumped his golf clubs and repurchased the company, pumping in two million euros ($2.3 million) of his own money to put it back on its feet. "I was 70, but I was bored stiff," Clergerie recalled. He had toured the Greek islands, taken up gardening and golf, but he was "bored to death, particularly by the golf". "It killed me to see the company go like that. I knew almost all the workers."
"The day I returned to the factory the women were in tears," he said, the emotion welling up in his voice. "I found a second youth," he told AFP, and so did his brand, its trademark flat and wedged shoes and boots again becoming a must-have for fashionistas. While other brands have been forced to go abroad for cheaper labour, Clergerie has bucked the trend. Its factory is the last in Romans-sur-Isere, once the capital of French shoemaking. Yet its founder, now 83, came very late to the business. The son of a grocer, "my father brought me up the hard way, working in his shop until I was 24.
Late bloomer
"I went to America but was called up to fight in Algeria (during its war of independence). Then I did lots of jobs, none of which made me happy," Clergerie admitted. It was only at 37 that he discovered his passion after replying to a small ad in a newspaper: "Wanted -- someone strong enough to fill the shoes of manager of a factory in the Rhone valley, close to the mountains and the sea." "It was the revelation of my life," Clergerie recalls in a new book, "Robert Clergerie, the Man Who Shod Women".
In 1978 he struck out on his own, taking over a factory in Romans and launching the first collection in his own name three years later. His first three styles -- Paris, Paco and Palma -- were an instant hit, wowing the women's market with flat slightly boyish shoes which caught the spirit of the times. "The 1980s were a golden age of disco, partying and real excitement," he said, with Bianca Jagger, Hollywood legend Lauren Bacall and Madonna beating a path to his Paris shop, which sold 11,000 pairs a year.
'I cried and vomited'
But the company grew too quickly, and needed more cash to keep up with demand. In 1996 Clergerie sold his controlling stake to investors, though he still held 10 percent of the shares and stayed on until 2001 as artistic director. "Signing it over killed me," he said. "I went home and cried and vomited." In a few short years his two main rivals in Romans went to the wall and by 2005 his own brand was also on its uppers.
That was when Clergerie returned to save the day. The brand prospered and seven years later he finally retired, passing the company and its 17 shops around the world on to French and Hong Kong investors, who had promised to keep making the shoes in Romans. "It is now five years since I really retired," said Clergerie, and "I am starting to detach myself, though not totally," he added with a note of warning. Because the Clergerie is "like a woman I loved madly -- and now there is someone else in her bed." (AFP)
Photo: MARTIN BUREAU/AFP
Vivian Hendriksz

|
London - Menswear brand Jack & Jones has extended its range of styles to include plus-sizes following high demand from consumers. The high street retailer, owned by Bestseller, now offers sizes from 2XL to 6XL.
The plus-sizes options will be available in all of Jack & Jones categories, offering shoppers a much wider selection of trendy styles, designs, and colours. "We want to make sure our consumers, regardless of their size, can get on-trend styles and looks," said sales director Dennis Birk Jorgensen. "We have done this for our well-now collections - now with styles in every size."
The menswear label work for more than a year on its plus size styles, to ensure each item remained was proportioned and well-fitting. Jack & Jones worked with Hirmer, one of the German market leaders to refined and adjust all of its extended sizing.
"The years of analysis and studies we have on fitting and size were the foundation of the plus size range," added Jorgensen. "We have adjusted well-known Jack & Jones fittings to the plus size segment and adapted them according to the current size studies. In close cooperation with Hirmer, each product category has been examined in detail and adjusted to achieve the desired fit."
The plus size extended collections are set to launch in all of Jack & Jones active markets and online at www.jackjones.com from August 2018 onwards. Jack & Jones aims to launch six plus size collections per year, in line with seasonal trend and colour changes. "It's something that we are particularly proud of and we hope consumers will embrace this extension of our product range."
The plus size collection launch sees Jack & Jones following in the footsteps of other high street retailers, such as River Island and Asos, who previously launched dedicated plus size and tall sizes for men. "Following the success of women's plus size clothing over the past five years, retailers are finally starting to pay more attention to men's ranges," noted Katie Smith, Senior Fashion & Retail Analyst at Edited to FashionUnited.
Read more on plus size in menswear here.
Vivian Hendriksz

|
London - With the end of 2017 a few weeks away, retailers and brands are already busy planning their future stock. 2017 may have seen its fair share of trends emerge, but what will the year 2018 have in store for the fashion industry? With the start of a fresh new year just around the corner, FashionUnited has joined forces with retail analytics company Edited to share its top trend predictions for 2018.
"2017 was one of the most polarizing and fragmented years on record - whether you look at politics, current affairs or entertainment," says Katie Smith, Retail Analysis & Insights Director at Edited. "This trend will continue in 2018 into the fashion industry. Whether it's extravagant, over-the-top silhouettes of the '80s offering escapism or dressing functionally to reinforce our desire for comfort, what we'll wear will span the extremes of the fashion spectrum."
#1 Enhanced functionality - apparel for every day, every situation
Consumers today continue to travel further and further from home more frequently, for work and for leisure, while living in increasingly busy and crowded cities. At the same time, they also have more varied and flexible work lives which makes it easier to balance their social lives. While there is more interest in the growing athleisure category, apparel, in general, will begin to take on more enhanced technical properties, as consumers become more aware of their bodies needs.
"In 2018 we'll see more brands tackle the pressures of modern lives, incorporating fit and performance properties into apparel beyond activewear," says Smith to FashionUnited. "That will result in clothing that responds better to the weather, that travels well and is hyper-versatile. This could also impact convenience services for the post-purchase care of apparel." Brands such as Dockers, Levi's and Uniqlo have all expanded their current collections over the year to include more versatile and functional items, which can be worn from the office to the gym and even to happy hour.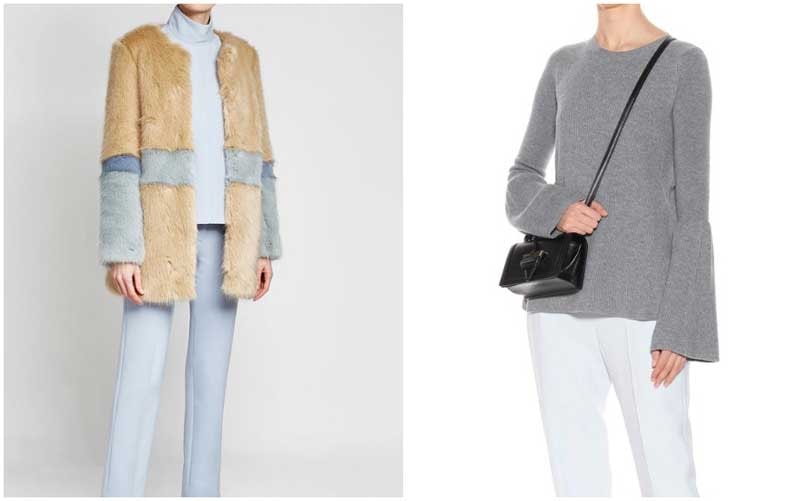 # 2 More sustainable, eco-friendly brands - who say no to fur
An increasing number of consumers are showing interest in how and where their products are made, pressuring retailers and brands to produce more responsibly and take on an ethical outlook. Brands which take on an authentic position concerning social and environmental issues will stand out, and connect easier with millennials and Generation Z consumers than those which do not. In particular, new brands which address hot topics such as fur and leather are likely to become increasingly popular next year.
For example, when luxury fashion house Gucci, one of the industry's most influential brands, announced it was going fur-free from Spring 2018 this October, many applauded them and followed in suit. "In a climate where social media campaigns can go viral, brands will be thinking incredibly carefully about the environmental and social impact of the products they create," notes Smith, who expects more luxury brands to follow Gucci's lead next year. "Consumers will also become more clued up about sustainable down, vegan leather and lab silk."
#3 All attention on the bust area
It is no secret that 'dare-to-bare' areas of flesh have become a trend in their own right in women' wear. Over the past year, we have seen new, cropped styles emerging which place more emphasis on abs as well as the shift from cold-shoulder styles to exposed, Bardot-inspired shoulders. The bust area is set to take the spotlight next year, as autumn 2017 has already seen the return of the corset as a belt detail, in addition to slogan t-shirts which use motifs such as watermelons or winking faces on the breast area.
This increased focus on this particular area of the female form is set to grow to Spring 2018, as fashion houses including Alexander Wang, Helmut Lang and Fendi all presented designed which incorporated bras as outerwear on tops and dresses. Other leading designer brands, such as Prada, Versace, Louis Vuitton and Dolce & Gabbana paired the popular bralette over t-shirts and dresses or presented it alone with high-waisted skirts.
"External seams, corset details, and sheers will add to the buzz around the breast! This will be done in an inclusive way," adds Smith. "Gone are the years of everyone seeking a plumped-up shape, as declines in the push-up bra showed."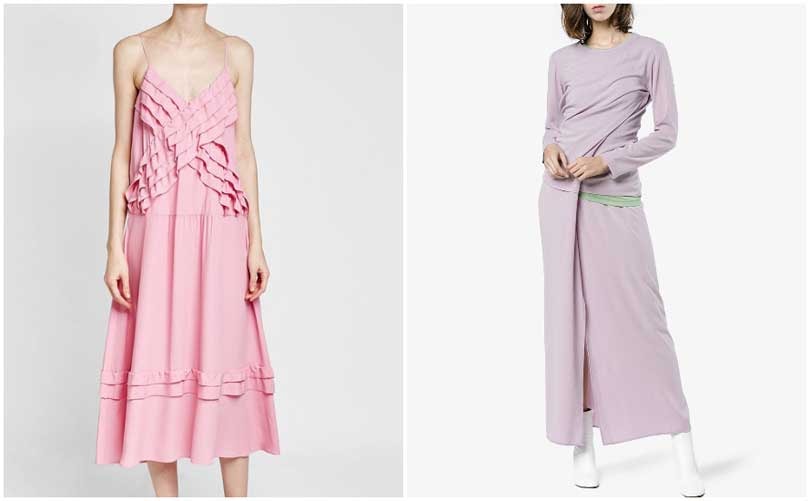 #4 A return of occasionwear, inspired by the Royal-Wedding
The upcoming wedding between Prince Harry and Meghan Markle in 2018 is set to lead to another trend concerning summer occasionwear on both sides of the pond. "You can expect retailers and the magazine industry to go all-in on content in the lead up to May, with much scrutiny on the bride's and attendees outfits after the event," notes Smith to FashionUnited.
Some of the key trends for Summer 2018 for occasion wear include dresses with asymmetric one-shoulder, higher necklines, as well as strapless dresses and puffballs hems. Ruffles on the other hand, which were big for occasion wear and formal wear this summer, are likely to shift from being chaotic and haphazardly thrown on many dresses to columned tiers on sleeves or skirts. Evening jumpsuits will also be big next summer but are likely to be more formal and tailored.
Key colours for wedding season will be bubblegum pink, lavender, sunshine yellow and metallic. Bold earrings are also set to make a comeback next year and will complete any look.
#5 Yellow free-for-all
Millennial pink may have been the 'it colour' of 2017, but in 2018 everything will be about the color yellow. The main tone will be a lighter hue of neon yellow, as consumers seek out brighter and vibrant clothes to help combat global concerns in these politically and socially charged times. Retailers would be wise to take on strong color stories for merchandising, as consumers seek out statement colours to make their wardrobes more bright and cheerful.
"This trend is directly influenced by the impact of street and workwear," says Smith. "Hot brands like Off-White and Gosha Rubchinskiy have used iconography of street signage in their prints and apparel and Kanye West's Yeezy line and Nike have picked up on the references. We'll see a wider range of women's and men's apparel picking up the lead on yellow in 2018, as well as the shade being referenced in branding and campaigns, just as we saw with millennial pink."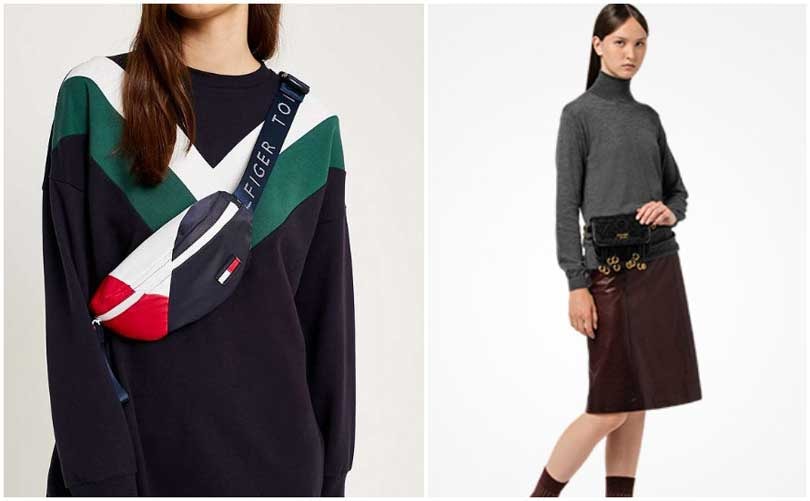 #6 '80s/'90s-style - the new 'must-have' accessory: fanny packs
The key trends from the '80s have been having a strong comeback in fashion as of late as a throwback to a time when fashion and lifestyles where both fast and frivolous. As the global political climate remains fractious, consumers seek out a certain level of comfort from a more simple era. "With Millennials delaying home purchases and starting families, they have high disposable incomes which revisits some of that 80's hedonism," notes Smith. "The 80's is somewhat akin to pure escapism from the harsh realities of life."
While key trends set to continue next year include oversized checks on power suits, extreme sleeve detailing, asymmetric hems one of the 'must-have' accessories will be the super-functional fanny pack. The fanny pack was spotted all over the Spring/Summer 2018 runways, in both formal and casual variations. Casual styles took inspiration from the classic '80s fanny pack, as seen at Kenzo, Marc Jacobs and Balenciaga, worn across the hips or slung cross-body.
More formal and dressy fanny-pack styles were seen at Gucci, Givenchy and Kate Spade. These designer brands gave the fanny-pack an updated shape, and use higher-end materials such as leather to give it a more polished look. "Chain embellishment, metal fastenings and brand logos ramp up the luxe factor."
Photos credits: Homepage: Alexander Wang, Catwalkpictures / MadeME, Urban Outfitters / Shrimps AW17, Stylebop / Sies Marjan, Spring 18, Browns
Dockers AW17, Facebook - Uniqlo, own website
Shrimps AW17, Stylebop - Stella McCartney AW17, Mytheresa.com
D&G SS18, Catwalkpictures - Prada SS18, Catwalkpcitures - Alexander Wang AW17, Catwalkpictures
No21 Pre-Spring 18, Stylebop - Sies Marjan, Spring 18, Browns
Adam Lippes SS18, Farfetch - MadeME, Urban Outfitters - Alice Mccall SS18, Farfetch
Tommy Hilfiger AW17, Zalando - Prada AW17, own website