AFP

|
Sandals with socks are no longer a fashion faux pas worthy of a flogging. In fact, they are positively the way to go if Paris catwalks Thursday are any indication. The dorky look previously confined to superannuated boy scouts and embarrassing uncles appeared in three major menswear shows, with no less than Louis Vuitton giving them its imprimatur.
Its British designer Kim Jones sent out nearly 20 models in his Hawaii-themed show in sandals and socks. Pigalle followed suit with Nike sandals while Ami went one step beyond into total taboo territory with white socks and sandals.
Singer turned fashion maven Rihanna began the rehabilitation of the look regarded as a sartorial abomination when she was spotted in black slide sandals and socks in April. The horror had hardly subsided when the second most famous Kardashian, model Kendall Jenner, turned up on the red carpet at the Cannes film festival in high-heeled sandals and twinkly transparent socks in May.
Vuitton commissioned a song for its show from the Canadian rapper Drake which may yet mark the official catwalk "coming out" of the socks-and-sandals trend. Jones said his inspiration for the show came from his reading of the "Atlas of Remote Islands: Fifty Islands I Have Not Visited and Never Will". "Someone gave me the book... and I realised I'd been to about all of them," he said.
But Hawaii was his principal source, he said, specifically its "extreme sports" of surfing, windsurfing, trekking and hiking. All of which challenges Jones' models were dressed to bravely confront in socks and sandals.
The sportwear heavy collection seemed to be out to combine wetsuit and business suit, with a shiny, rainsoaked windcheater sheen to much of Jones' creations which included a crocodile skin cardigan, and imaginary Hawaiian patterns turning up on his Aloha-influenced shirts.
Freak chic
Jawing dropping as so many besocked sandals were, the most spectacular sight of the day was the set of the Rick Owens show outside the Palais de Tokyo museum. The Los Angeles avant gardist sent out his goth army of models from the roof of the art deco museum onto a huge 16-metre high (52-foot) scaffolded catwalk that wound its way down around its monumental facade and fountains.
Owens said the modern art museum is his favourite building in the French capital, "an art deco Wagnerian Valhalla". He said his extravagant set was "a way of caressing its inner walls and licking every inch of a building that's only purpose is as a temple to beauty. "I was thinking of Tatlin's Tower set to Led Zeppelin's 'Stairway to Heaven'," he added.
Rarely shifting from his trademark 50 shades of black in a collection he called "Dirt", Owens' most eye-catching innovations were his human saddlebags, strapped around the waist and worn on the thigh. And rather than Led Zeppelin, his models marched to Egyptian Lover's cult song "I Need a Freak".
The freak chic continued at Taiwanese newcomer Angus Chiang's debut show where he mixed Day-glo skin-tight cycling and Formula One gear with Mickey Mouse shoes. Some models also wore fishnet tights while others had Ziploc bags on their heads.
Chiang cited his native island's "Betel Nut beauties" as one of his influences. The women in sexy outfits were long of a fixture of Taiwanese streetscapes, selling betel nuts and cigarettes to passing lorry drivers. (AFP)
During the month of June FashionUnited will focus on the menswear catwalk season. For all reads, click
here
.
Photos: Louis Vuitton and Dries van Noten SS18, Catwalkpictures
Don-Alvin Adegeest

|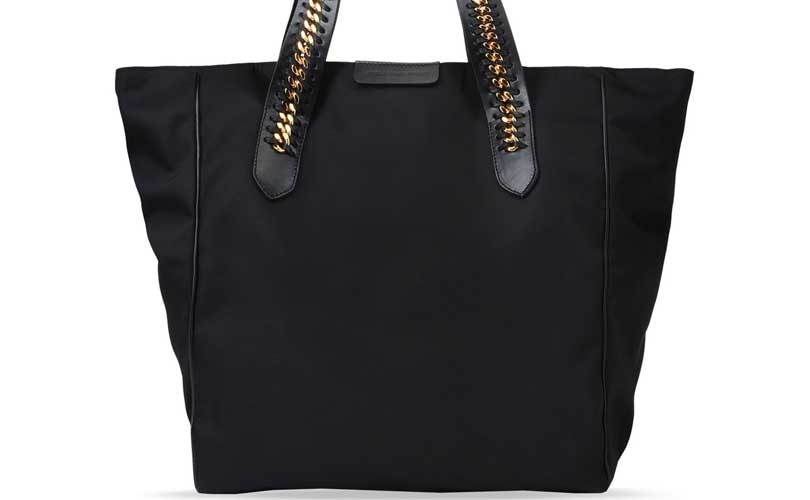 Stella McCartney's sustainability commitments will now see the brand produce one of its icon bags using a regenerated yarn.
The company confirmed its Falabella Go bag will be made using a fabric yarn called Econyl which is synthesized from ocean waste.
McCartney confirmed earlier this year she would use sustainable viscose, regenerated cashmere and other recycled materials in her collections whenever feasible. The yarn is produced by Aquafil, a company that aims to prove luxury brands can use high end alternatives without forsaking quality or style.
Aquafil chief executive officer Giulio Bonazzi said the Econyl partnership with McCartney "represents the future of fashion. It proves that when sustainable ingredients are of the highest quality, they will be adopted by brands from sportswear to luxury. When sustainability is treated with the same reverence as performance and quality, we see beautiful and impactful collections take the stage."
Bonazzi said every 10,000 tons of Econyl produced saves 70 thousand barrels of crude oil by avoiding extraction. Aquafil's Econyl regeneration system diverts waste from landfills and oceans through the recovery of abandoned fishing nets and other discarded nylon waste. The waste is reborn through Aquafil's regeneration system, which is an example of the circular economy. He said it offers the same quality and performance as traditional nylon, but with the ability to be regenerated an infinite number of times.
"Fashion is an industry that makes a significant impact on the planet. It's not just cool clothes and trends," McCartney stated last year.
Photo credit: Stella McCartney Falabella Go bag, source StellaMcCartney.com
FashionUnited

|
Carry Somers, the founder of Fashion Revolution, visited Uruguay and Argentina earlier this month. During her visit, she hosted a number of lectures and spent her time learning a bit more about the fashion industry in these countries. FashionUnited was given the chance to attend one of her presentations and talk to her about her work at the non-profit organization (NGO) whose aim is to change and improve fashion around the world.
#WhoMadeMyClothes, much more than a question
At Fashion Revolution we believe that transparency is the first step in transforming the fashion industry", said Somers. Supply chains are large and complex. Often, large brands do not own the factories where their clothing is made and this makes it difficult to see what working conditions are like. Some firms may even negotiate with several factories or hire a supplier who, in turn, hires other companies. This is why the subject of transparency appears as a great challenge and Somers explained it: "For Fashion Revolution, transparency means public disclosure of brand policies, procedures, goals and commitments. It also implies performance and actual impact on workers, communities and the environment".
The past year saw an increase in the number of brands contacting their clients and starting to show a bit more about what happens behind the scenes. "Answering the question #whomademyclothes requires transparency, which implies honesty, openness, communication and public accountability. This information must be made available to consumers to inform and educate them. In 2017, during the Fashion Revolution week, global events took place in over 90 countries and 533 people commented on #whomademyclothes on the social networks", she said.
Brand transparency index
In April this year, the NGO published a report showing rankings from the transparency index of the 100 most popular fashion brands in the world "Based on this index, our aim is to show how much or little consumers can learn about what they buy", said Somers.
Inclusion of brands in the index was not voluntary, although they were given the chance to complete the questionnaire with their own information. Out of 100 companies, only 49 completed questionnaires were received.
Participating brands were selected for their annual turnover and those wishing to participate voluntarily were also considered. Those representing different market segments of the fashion industry around the world were also chosen (urban, luxury, sports, footwear, accessories, etc.).
Some conclusions reached from the report:
Companies with the highest percentage of transparency did not even reach 50 percent in their results.
Adidas and Reebok were the highest ranked at 49 percent. Then Marks & Spencer and H&M, with 48 percent.
Only 8 companies registered over 40 percent.
"Whilst we can see that brands are starting to focus more on their social endeavours, which is an asset, there is still a lot of information on fashion industry practices that remains undisclosed. Last year, only 12 percent of leading brands published their lists of suppliers. This year, this figure is around 32 percent. The trend is changing and we are moving towards a new era but there is still a long path to tread", said Somers.
A few projects
The NGO presented a series of tutorials "Haulternative" given by influencers where they offer keys to transform items of clothing into new ones. "We are encouraging people to think differently about their relationship with clothes. Large-scale production and consumption is a cause for concern, considering its environmental impact. The average person buys over 60 percent of their clothes and only uses them half the time they did 15 years ago", said Somers.
Another initiative is The Garment Worker Diaries, a research project on the life of workers in clothes-making industry in Bangladesh, Cambodia and India. For further information: A Fashion Revolution project follows up on the life of textile workers.
Photos: FashionUnited
Vivian Hendriksz

|
London - BoohooMan has launched its latest capsule collection, which sees the fast-fashion brand teaming up with international rapper Tyga.
The Manchester-based fashion label worked closely with the artist to create a capsule collection of 30 pieces, which includes ready to wear items and accessories. The collection is inspired by Tyga' lavish and bold style and features elements from urban, hip hop and grim cultures.
"This is a monumental moment for BoohooMan and having a talent like Tyga on board aids the brand's move into global territories," said Boohoo in a statement. "His laid back, relaxed persona gives the shoot a fresh, urban vibe and embodies BoohooMan's style down to a T."
The BoohooMan x Tyga Autumn/Winter 2017 collection also sees a select offering of limited edition products. The price point for the collection ranges from 4 pounds to 60 pounds. The capsule collection officially launched on www.boohooman.com on June 21, 2017.
Photo: courtesy of BoohooMan
AFP

|
Anti-fur protesters stormed on stage with Michael Kors in New York on Wednesday, briefly disrupting a ticketed event at which the US fashion mogul discussed his career, dressing Melania Trump and shutting stores.
"Michael Kors has blood on his hands," chanted the more than dozen protesters who marched through a darkened auditorium at the Metropolitan Museum of Art, shortly before security ushered Kors out. An audio recording of an animal squealing, seemingly in pain signaled the start of the four-minute protest about 13 minutes into the conversation with Kors, which was being streamed on Facebook.
"Animal fur is not in fashion," "animal fur is not compassion," chanted the protesters, at least two of whom jumped on stage. "Shame on all of you for supporting this industry," yelled one man as the stunned audience sat looking bemused and museum staff did what they could to escort protesters out as quickly as possible.
"Stay in your seats. We're going to try and resolve this," came the announcement over the loudspeaker, greeted by cheers and applause. Once the protest was over, Kors received a standing ovation after returning to the stage with former CNN journalist Alina Cho, who was conducting the interview.
"You know what, the show goes on," said Kors. Known for his laid-back, luxurious, wearable and quintessentially American silhouette, Kors started his label in 1981 and has dressed Hollywood actresses, music superstars and first ladies.
Among them is Melania Trump, who wore a tailored Michael Kors dress to greet Panama's president and first lady on Monday. While some prominent designers have refused to dress her in opposition to her husband's politics, Kors said the Slovenian-born former model had attended his runway shows in the past.
"I don't think it's a political thing," he said. "She's been a client for so long," he said. "She looks great," he said simply as a picture of Trump flashed up on the screen. But while Kors sits atop a global handbag and apparel empire, the company has said it will close 100 to 125 stores, joining a growing list of retailers who are shutting brick-and-mortar outlets as e-commerce grabs more market share.
On May 31, the company released fourth quarter results showing that total revenue had slumped 11.2 percent to 1.06 billion USD. Asked about retail headwinds, Kors said "nothing" could ever compete with the excitement of buying and seeing clothes in person, no matter how often a modern buyer had seen them online.
"The reality now is sometimes it's really thinking about how all of this works together, how do you shop online, on your phone, at your laptop, in the store, how does that all connect?" A household name in the United States, Kors said he learned about "extravagance" and "indulgence" from French women in Paris while working as creative director for Celine from 1998-2004.
Photo: Courtesy of HSI
AFP

|
Balenciaga brought the refugee look to Paris men's catwalks Wednesday with a collection which seemed to evoke Europe's migrant crisis and the dreams of thousands seeking a new life there. Designer Demna Gvasalia -- a child refugee himself who fled to Germany from war-torn Georgia in 1993 -- has made his name selling the clothes of the poor to the rich.
The enfant terrible of the Paris scene sent out more than 60 models in various charity shop looks for the luxury brand, with plastic shopping bags bearing the legend "Europe Europe Europe" remade in slick soft leather. Some models carried children and expensive Balenciaga luggage bags with "The Power of Dreams" written on a square of cloth stitched to their hoodies.
Others wore lifevest-like squares with "Europe" written on them, while still more sported plasticated jackets and ponchos emblazoned with "Europa! Quality. Experience. Professionalism." However, Gvasalia, whose is known for his ironic reclaiming of unfashionable or "naff" 1980s looks, made no reference to the refugee crisis as a source of inspiration.
Doting young dad
Instead he presented his spring summer men's collection for 2018 as one about "young dads in the park with their kids at the weekend." Indeed he chose a number of fathers from the Swiss banking capital of Zurich -- to where he is moving his studio -- to model with their children in his al fresco show in the Bois de Boulogne park on the edge of the French capital.
"As Balenciaga man... bypasses fashion on the way... to the dry-cleaner and a trip to the off-licence," he wrote in his notes to the show, "his clothes seem to have picked up a laminated Europa sign." Gvasalia's tongue-in-cheek poverty chic has made his Vetements label one of the hottest in fashion, and earlier this year he raised eyebrows with 1,900-euro (2,100 USD) Balenciaga bags that bore a remarkable resemblance to cheap IKEA and laundry sacks.
Having already made a DHL courier's T-shirt an object of desire, this time Gvasalia applied himself to cheesy Hawaiian sunset prints, which he used on two shirts. But his big innovation was his take on detachable hiking trousers -- not normally a garment that makes the catwalk. With "Twin Peaks" star Kyle MacLaclan among the audience, he debuted his zippable three-piece trousers, the first of which had a green leather top, camel cotton thighs and denim bottoms.
Bowie meets Sherlock Holmes
He also trumpeted his latest sartorial invention -- the "built-in grandad slouch" -- which he has worked into to his oversized jackets with the aid of weights in the sleeves and linings, while his parkas have been given extra charity shop "worn-in droop".
Japanese designer Hiromichi Ochiai had earlier appeared in a kilt to receive the applause for his Facetasm show which had combined recut tailcoats with shorts, turned-up jeans and baseball socks. It looked as if the designer had taken the scissors to the contents of the wardrobes of a Scottish stately home, with spotty dressing gowns and lots of tartan and corduroy.
He also had two older grey-haired models among his co-ed show, that mixed clothes for men and women. Belgium's Walter Van Beirendonck mined a similar mismatch in his show that was very much Sherlock Holmes meets David Bowie.
Colourful and shiny Ziggy Stardust bodysuits were set against Prince of Wales check jackets and trousers with all his models wearing glam rock wigs. (AFP)
Photos: Balenciaga SS18, Catwalkpictures
Kristopher Fraser

|
In the era of athleisure even iconic luxury brands are getting on board. Valentino's Pierpaolo Piccioli is going after the sporty guy this season, as he's set to debut his next menswear collection for the brand today at Paris Fashion Week Men's.
The brand will also be debuting the new Valentino logo, VLTN, which Piccioli mulled over for quite some time. Eventually, he created a logo that appealed to both himself and his team of designers. Essentially, it is a shortening of the brand name with the original font.
The goal was to make the overall aesthetic more contemporary. Like all luxury brands, Valentino is attempting to court the millennial customer. This season, they've gone more street.
Valentino goes street for menswear collection
"I wanted to be very precise about this idea of street. I think there's a dignity in the streets and in sports," Picciolo said to WWD. "These pieces are really strong and of the moment. They express the culture of the moment and even the culture of the moment of the brand: couture meets street."
Valentino has become very popular among street style culture thanks to their rockstud shoes, bags and accessories.
Now they are capitalizing on that momentum to take the brand into the next era.
Since the departure of Maria Grazia Chiuri, now creative director of Dior, Piccioli has been tasked with continuing to elevate Valentino's offerings and grow their customer base.
In the millennial market, Valentino faces tough competition from brands like Saint Laurent, who count millennials as 70 percent of their customer base.
As Piccioli prepares to debut his revamped menswear today, the question will be how well can he compete?
photo: via Valentino Facebook page
FashionUnited

|
OPINION London - H&M, Nike and Asos were amongst the 13 fashion and textile brands who signed the sustainable cotton pledge earlier this month. Last month, the industry came together at leading denim trade show Kingpins, part of Amsterdam Denim Days, and stirred up the sustainable denim debate.
Op-ed by: Dio Kurazawa, Director of Denim at WGSN, who has close to 20 years of experience in the world of denim.
While these are small and honorable steps towards, to truly become sustainable, the fashion and textile industry needs to change the way they operate. Given the lack of formal regulation for sustainable textile production, the industry needs to rethink business models rather than acting sporadically and in isolation. Creating one-off sustainable collections, talking about pledges for environmentally sound cotton and denim production will only be effective if they are part of a bigger movement. A movement towards sustainable businesses in a sustainable society that focuses every decision they make on the environment.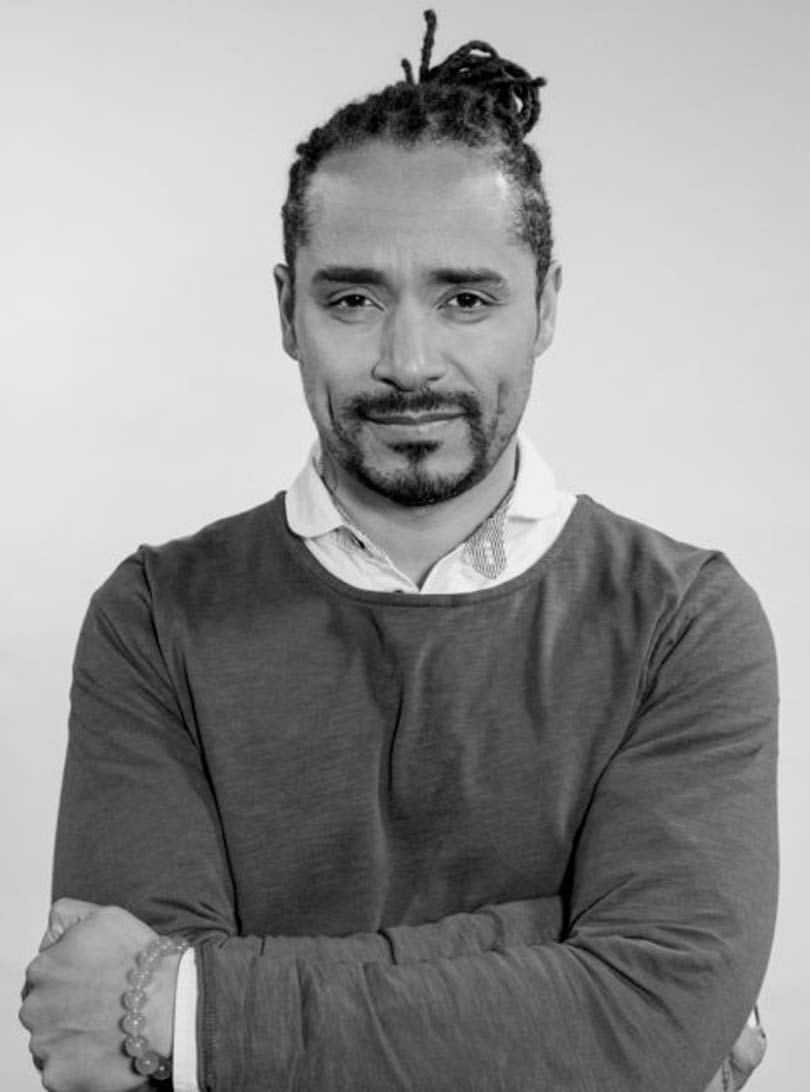 Sustainability as a concept has been buzzing for a while now, but its precise definition remains unclear. And because of this low level of clarity, there is no parameter that it can be measured against. For example, how do we know that reducing water usage by 1 percent during garment production equals sustainability? The process of creating such necessary parameters is underway, but it comes as no surprise that when politics and society deny climate change, the conversation can only go so far.
Many brands struggle to establish social responsibility as a core corporate value. It's hard work, involves lots of persuasion, and patience while running the risk of coming across as pretentious and dishonest.
As trend forecasters, we work hand in hand with the industry: helping them see what's going to happen and what to do about it. But I can't tell you to fasten your seatbelt and not fasten mine. So, we decided to experience first-hand what brands go through when making such a shift and the challenges of producing sustainable fashion. In April, we launched our first ever sustainable denim sample collection in partnership with Avery Dennison, M&J Group, Absolute Denim and Amsterdam Denim Days.
When making the collection, we came to realize that most suppliers, despite having innovative products focused on sustainability, had low stock of our chosen materials, due to lack of demand. The lack of demand is because right now, the industry has no legal responsibility to be sustainable. There are no regulating departments for the textile industry like there are in the food industry, for example. Without the parameters and proper governance, manufacturers aren't asked enough to create sustainable fabrics and materials. We found that it doesn't start with a brand saying they want to make a sustainable collection. It starts with the industry demanding sustainability.
So why do brands make the effort to create sustainable collections and sign pledges when, in reality, they don't necessarily have to? Because not-for-profit organizations such as Greenpeace are urging a movement towards environmentally sound behavior by increasingly creating awareness for social responsibility with the consumer. And the consumer listens. Previously driven by price point and choice, today's fashion consumers progressively expect sustainable products, processes, and behavior. This forces the industry to rethink their business models in order to continue growth. The question remains whether it also ensures that fashion and textile brands truly adopt sustainability across the board, given the lack of formal monitoring.
"To me, sustainability is a departure from tradition"
Sustainability can only happen when society starts changing its habits, addressing climate change head on and demanding sustainability in the fashion industry. Corporate conventions are at stake here too. Change towards truly sustainable behavior must come from within, driven by a redefinition of core corporate values of fashion and textile brands. Take Patagonia as a role model. They consider every stitch, every fabric and each manufacturer before they create, design and produce anything. That is what I believe every fashion and textile company should be doing.
The fashion industry is at a crossroads now. It cannot exist without claiming to be sustainable anymore because NGOs such as Greenpeace are demanding environmental consciousness and consumer's expectations mirror that. However, signing pledges and showing collections won't be effective when actioned in isolation. We need standalone statements and collections to become a thing of the past, and a socially conscious mindset be applied across the board to create a 'sustainable industry'.
This is an op-ed piece written by Dio Kurazawa, Director of Denim at WGSN. With close to 20 years of experience in the world of denim from design, development, washing and finishing, and fabric sourcing, Dio brings a vast amount of industry experience. He has previously worked for many of WGSN's top clients and has consulted for the likes of Levi's, Forever 21, C&A, Bestseller China, and Tommy Hilfiger to name a few. A passionate conservationist, Dio is very eager to promote cutting edge denim innovations that are not only trend driven, but environmentally sound.
Photos: Courtesy of WGSN
FashionUnited

|
Russian menswear designer Gosha Rubchinskiy is known for redefining global cultural ideas. He hails from the outskirts, and over the years has used his background to create a new subculture, carving out a well-deserved place for himself among streetwear-greats like Supreme and Palace. He now works together with big names like Stephen Jones, Adidas and Burberry.
"His show was gorgeous; in an amazing building, at midnight, with a very small audience, amazing people and tons of energy – skate boarders, musicians. But an odd kind of tension," Burberry CEO Christopher Baily said about Gosha Rubchinskiy's show last week. Rubchinskiy presented his latest collaborative collection with the British fashion house through a runway presentation in St. Petersburg, with Bailey in the front row.
Gosha Rubchinskiy creates collection for Burberry
Thirty-three year old Rubchinskiy created a collection of eight menswear pieces aimed at street style, not in line with the luxurious character that Burberry is known for. The line includes a new interpretation of the famous Burberry trench coat, which is oversized and is supplemented with shirts, a pair of shorts and football-inspired hats. The collection will be available in stores from January 2018.
"Gosha got in touch and asked if I wanted to work with him. And because I love what he does, I said yes. It was incredibly non-strategic and unplanned," Bailey reveals about the collaboration. "But it was quite effortless."
Gosha Rubchinskiy: creator of subcultures
Rubchinskiy began his career nine years ago with the very first catwalk show in a sports stadium in Moscow. The show, entitled 'Evil Empire', featured sportswear presented against a backdrop of rave music from the nineties. The models – young boys – wore facemasks with spikes and sweatshirts featuring slogans inspired by hardcore and death metal. Certain details in the show referenced the Cold War, and according to High Snobiety, the political statements made provided a defining moment for Russian youth culture. It is this culture that Rubchinskiy has managed to expand through the years, with youngsters in cities ranging from New York, Tokyo and Paris now wanting to appear Russian.
Even then, Rubchinskiy had a knack for creating complex and artistis political statements, Pavel Milyakov – who at the time created the visuals for Evil Empire – told High Snobiety. All aspects of the collection mattered: from the location to the soundtrack and the images. "For me the entire event was special because it was new, fresh and serious. And after all these years it still is. Not just in the context of Moscow, but globally, and that is his great strength," Milvakov concluded.
It was obvious to everyone who worked with Rubchinskiy at the time that the collection formed part of an ongoing cultural shift among the emerging generation in Russia, High Snobiety writes. "I met Gosha in 2007 or 2008 during a street party," says Kirill Savchenkov, who helped the designer organize his show. "We talked about the crisis of culture and identity. That this was being expressed through clothing was unique, and we worked with young people who themselves were part of this shift."
Adidas collaborates with Gosha Rubchinskiy
Many brands seem to like the fact that Rubchinskiy, who grew up in Soviet society, gets his inspiration from the fall of the Iron Curtain and Russian street culture. This has led to a number of collaborations, from Comme des Garcons, Palace and Supreme, to Burberry at present. Last year he was also a guest designer at the 90th edition of Pitti Uomo, where he presented a collection in an abandoned tobacco factory. Brands like Fila, Superga and Kappa contributed to the collection.
Furthermore, this week it was revealed that Rubchinskiy will once again collaborate with Adidas. The news follows on from the first Adidas collaboration, which was launched earlier this year during Rubchinskiy's runway show in Kaliningrad, Russia. The new collaborative collection, entitled 'Adidas Football x Gosha Rubchinskiy', is inspired by Russian youth culture in the eighties and nineties, met particular focus on the rave scene.
"Working with Adidas allows me to celebrate Russian youth. By combining fashion design that expresses my vision with the best sportswear brand in the world," Rubchinskiy says about the new collaboration.
The collection includes, among others, an oversized tracksuit jacket, woven tracksuit pants and sleeveless tops. A few items feature the text 'football' in Cyrillic. The line also includes shoes and accessories like sports bags and water bottles.
Besides his collaborations, Rubchinskiy also has a eponymous menswear brand. It is sold globally through various retailers. The collections are also available online.
During the month of June FashionUnited will focus on the menswear catwalk season. For all reads, click
here
.
Photo: Burberry, Gosha Rubchinskiy Facebook
AFP

|
Paris men's fashion week kicks off Wednesday with its reigning enfant terrible Demna Gvasalia again cocking a snook at convention by staging a "no show". The brains behind the ultra hip Vetements label -- whose voluminous hoodies and re-cut Levi jeans sell almost as fast as spinners -- said he was bored with tired old catwalk traditions.
"I got bored... fashion shows are not the best tool," he told Vogue earlier this month. "We did the show in the sex club, the (Chinese) restaurant, the church... It's become repetitive and exhausting. We will do something when there's the time and the need for it. It will be more like a surprise," he added. As well as doing away with a conventional catwalk show, Gvasalia is also dispensing with the need for a new collection every season.
Instead, the Georgian-born designer will unveil a selection of "re-editions" of clothes he has already created to buyers and journalists in what his brand termed a "no show". That said, Gvasalia's new spring summer collection for Balenciaga -- for which he also designs -- is the hottest ticket on the opening day of fashion week. And Demna, as he is known to fashion insiders who struggle to pronounce his surname may be about to get some competition when it comes to punk attitude.
'Wasted, entitled fiend'
Five new designers have joined the elite Paris ranks this time, with one of the new kids on the block, American Henri Alexander Levy, no slouch when it comes to provocation and self-promotion. His brand Enfants Riches Deprimes ("Depressed Rich Kids" in French) counts Courtney Love, Beyonce and Justin Bieber among his customers and Kim Kardashian was snapped wearing one of his punk leather jackets costing 11,000 USD (10,000 euros).
The product of Swiss boarding schools, Levy, the son of a rich Atlantan family, revels in his privilege, reportedly declaring that "Saint Laurent is my Zara" and that he would kill himself if he wasn't rich. He emblazoned one of his T-shirts with the nihilistic legend, "Wasted entitled selfish fiend."
The other newcomers reflect the global pull of Paris as a fashion capital, with Taiwan's Angus Chiang debuting his first collection of his trademark acid pop colours Thursday. The Israeli designer Hed Mayner has built a following with more sombre oversized clothes influenced by the attire of Orthodox Jews. He began his career at 16 making clothes in his home village of Amuka in Galilee in the north of the country, a place of pilgrimage for Hasidic Jews in search of a good marriage.
Swedish-based Kurdish brother and sister team Dilan and Lezan Lurr -- who come from Kirkuk in northern Iraq -- show their first collection for their Namacheko label Friday. While Alexander McQueen is one of fashion's most established names, the brand will show its first Paris men's collection on Sunday. The newbies will show alongside such mainstays as Dior, Louis Vuitton, Valentino, Berluti, Hermes, Dries Van Noten, Balmain and Lanvin.
In total 52 shows are taking place during men's fashion week with the Paris haute couture shows starting on July 2. (AFP)
Photo 1 & 2: Balenciaga AW17, Facebook