Like a luxurious chocolate pudding, the Fendi autumn/winter 2015 show left Italy's fashion world drooling Thursday with its sumptuous suede and leather creations and bird of paradise bags.
The Roman fashion house under creative director Karl Lagerfeld -- present in his trademark dark glasses -- upheld its reputation for multi-fabric outfits, with patchwork and leather panels stitched loosely onto tunics and dresses.
First up was a selection of white and cream ensembles, led by Victoria's Secret beauty Doutzen Kroes in a beautifully tailored high-waisted loose coat, after which the catwalk gave way to earthy tones dominated by browns, reds, camel and brick.
Sleeveless tunics in suede were paired with velvet elbow-length gloves trimmed with fur -- a Fendi staple -- while simple, high-necked dresses with a masculine cut were softened by box handbags sporting feather-like adornments.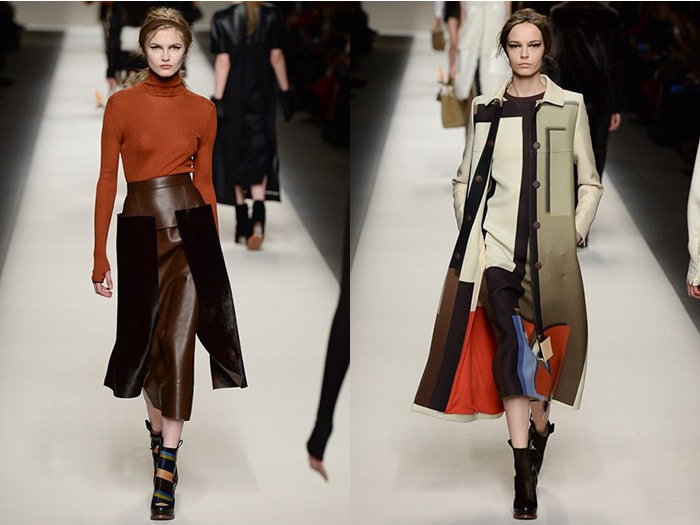 Black ermazine shifts were given large leather panel sides, tacked on lightly and freely moving, or paired with leather smocks suggestive of female gladiators -- matched with brown and black ankle boots with diamond heels.
While Gucci's new director Alessandro Michele plumped for furry slippers in his debut womenswear collection on Wednesday -- raising a number of eyebrows on the catwalk's the front row -- Lagerfeld opted for sleeker boots.
Die-hard Fendi girls will no longer have to put up with catching cold as the price for looking good, for the collection included duvet-style jackets, with vast fur collars and even a brown and white patchwork dress in quilting.
And for the very brave, there was an oversize beanbag dress and coat -- but ordinary mortals beware, you may end up looking rather like Humpty Dumpty. (AFP)